For women experiencing lower back and pelvic pain, could understanding symptoms help in the diagnostic process, treatment options, and prevention?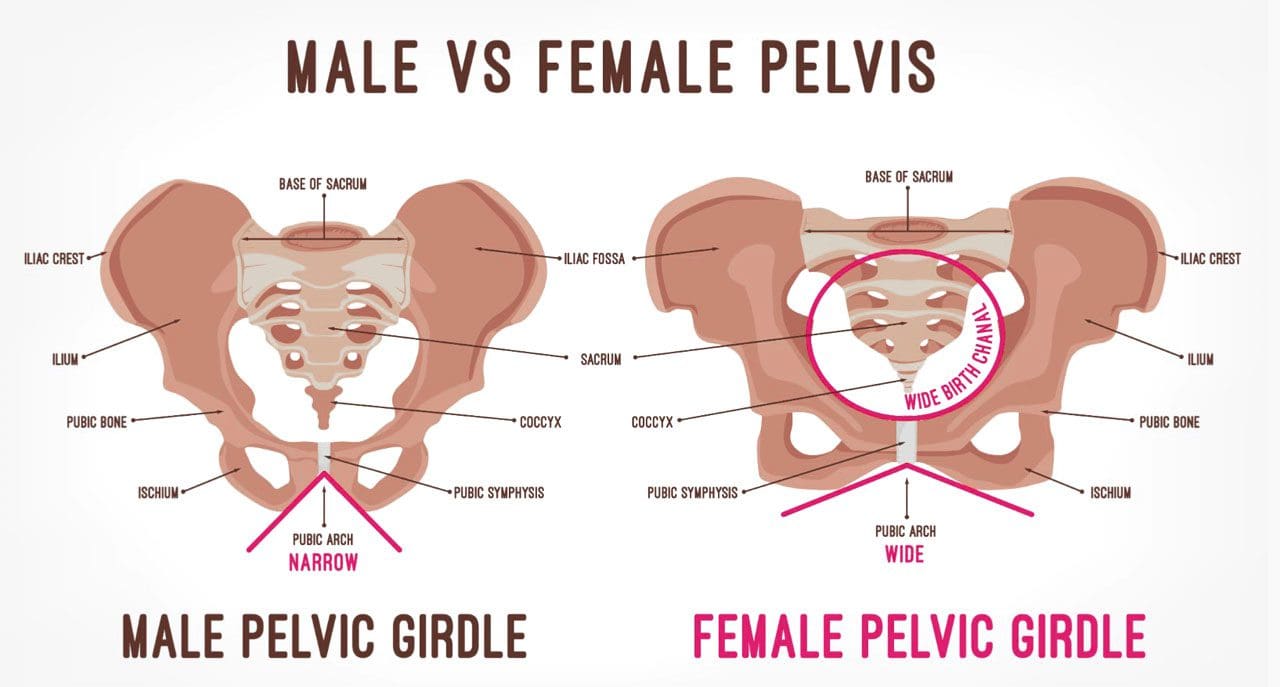 Low Back and Pelvic Pain In Women
In women, lower back and hip pain that radiates to the front pelvis area can have a variety of causes. The pain can feel dull, sharp, or burning. The main causes of lower back and pelvic pain in women fall into two categories. (William S. Richardson, et al., 2009)
Musculoskeletal and nervous system
Related causes of pain affect how your muscles, nerves, ligaments, joints, and bones move.
Examples include sciatica, arthritis, and injury.
Other organ system-based
Causes may stem from the following:
Acute/chronic conditions or infections
Kidneys – stones, infection, and other ailments or conditions.
Reproductive system – such as the ovaries.
Gastrointestinal system – inguinal hernias or appendix.
Musculoskeletal and Nervous System Causes
Musculoskeletal and nervous system-related causes can be from injuries like a fall or practicing unhealthy posture.
Overuse Injuries and Trauma
Frequent use and repetitive movements can lead to overuse injuries to the muscles, ligaments, and joints.  :
Exercises, sports, and physical activities that require repetitive twisting and bending.
Lifting, carrying, and placing objects that require movements that are repeated regularly.
Trauma from vehicle collisions, accidents, falls, or sports accidents can inflict acute and chronic bodily injuries, like strained muscles or broken bones.
Depending on the type of trauma, healing and recovery time and treatment vary.
Both types of injuries can lead to numbness, tingling, pain, stiffness, popping sensations, and/or weakness in the legs.
Mobility Problems
Over time, a decreased range of motion and mobility in muscles and joints can cause discomfort and pain. Causes include:
Long periods of time spent in the same position.
Sitting for extended periods.
The pain often feels dull, achy, and stiff.
It can also lead to muscle spasms characterized by quick episodes of sharp and intense pain.
Posture
Posture while sitting, standing, and walking affects the body's range of motion.
It can affect the nerves and blood circulation to the back and pelvic region.
Prolonged unhealthy postures can contribute to lower back pain and muscle strain.
Posture-related symptoms can feel achy and stiff and lead to quick episodes of severe or intense pain, depending on the position.
Sciatica and Nerve Compression
A bulging or herniating vertebral disc most commonly causes sciatica and pinched or compressed nerves.
The sensations can be sharp, burning, electrical, and/or radiating pain along the nerve pathway.
Arthritis
Arthritis inflammation causes swelling, stiffness, pain, and the breakdown of cartilage that cushions the joints.
Hip arthritis causes groin pain that can radiate to the back and becomes more intense when standing or walking.
Thoracic and lumbar spine arthritis, or degenerative disc disease, are other common causes of back pain.
Sacroiliac Joint Dysfunction
Renal and Urinary Causes
Kidney Stones
Kidney stones are the build-up of minerals and salts, which form into hard stones in the kidneys.
When the kidney stone begins to move to the bladder, pain symptoms will present.
It can trigger severe back and side pain that radiates to the pelvic region.
Other symptoms include – a change in urine color, pain when urinating, nausea, and vomiting.
Kidney Infection and Urinary Tract Infections
Urinary tract and kidney infections are also causes of lower back and pelvic pain in women.
They cause fever, continued urge to urinate, and painful urination.
Gynecological Causes
Pelvic Inflammatory Disease
Infections, known as pelvic inflammatory disease, occur when sexually transmitted bacteria spread through the vagina, womb, fallopian tubes, or ovaries. Symptoms include:
Pain during intercourse.
Bleeding between periods.
Vaginal discharge.
Pain in the lower abdomen or groin.
Fever.
Ovarian Cysts
The cyst can be a solid or fluid-filled sac on the surface or within an ovary.
Small ovarian cysts are unlikely to cause pain.
Large cysts or those that rupture can cause mild to severe pain.
The pain can occur during menstruation or intercourse and present acutely in the back, pelvis, or lower abdomen.
During Pregnancy
Back pain and discomfort in the pelvis area are common.
As the body adjusts, the bones and round ligaments in the pelvis move and stretch, which can cause discomfort.
Symptoms are usually normal but should be discussed with a healthcare provider during check-ups.
Pain in the lower back and groin can be a sign of miscarriage or labor – including preterm labor.
Sexually Transmitted Infection
Sexually transmitted infections, like chlamydia or gonorrhea, can cause lower back and groin pain.
Other symptoms can include – painful urination, vaginal discharge, intercourse pain, and bleeding between periods.
Yeast Infection
A yeast infection – overgrowth of the fungus candidiasis.
A common vaginal infection with symptoms including – itching, swelling, irritation, and pelvic pain.
Other Causes
Appendicitis
When the appendix becomes blocked, infected, and inflamed.
In most cases, a major symptom is pain that starts near or around the belly button.
In other cases, it can start in the lower back and radiate to the right side of the pelvic area. (Johns Hopkins Medicine. 2023)
Associated pain can worsen over time or when coughing, moving, or taking deep breaths.
Other symptoms include:
Upset stomach
Nausea
Vomiting
Loss of appetite
Fever
Chills
Abnormal bowel movements – constipation and/or diarrhea. (Johns Hopkins Medicine. 2023)
Inguinal Hernia
A groin hernia is referred to an inguinal hernia.
It involves soft tissue and part of the intestine, pushing through weak groin muscles.
Pain presents in the abdomen, lower back, or pelvis, especially when bending or lifting objects.
Pancreatitis
Inflammation in the pancreas.
Infection, bile stones, or alcohol can cause it.
One symptom is abdominal pain that radiates to the back.
The pain becomes worse during and after eating.
Other symptoms include nausea, vomiting, and fever.
Enlarged Lymph Nodes
Lymph nodes lie in the internal and external regions of the iliac artery in the pelvis.
These can become enlarged by infection, injury, and, in rare cases, cancer.
Symptoms include pain, swelling, redness, skin irritation, and fever.
Enlarged Spleen
The spleen is located behind the left side of the rib cage.
It filters the blood and supports new blood cell creation.
Infections and diseases can cause the spleen to become enlarged.
An enlarged spleen – a condition known as splenomegaly – causes pain in the upper left part of the belly and sometimes the left shoulder and upper back.
However, some individuals with an enlarged spleen experience abdominal symptoms – not being able to eat without discomfort. (Mount Sinai. 2023)
Diagnosis
Depending on the cause of your pain, a healthcare provider may be able to diagnose it with a physical exam and by asking questions about your condition.
Other tests may be needed to find the cause, particularly blood work and imaging (X-ray or magnetic resonance imaging).
Treatment
Treatment of symptoms depends on the cause.
Once a diagnosis is made, an effective treatment plan will be developed and contain a combination of therapies:
Lifestyle Adjustments
For injuries caused by muscle strains, joint sprains, overuse, and smaller traumas, pain can be resolved with:
Rest
Ice therapy
Over-the-counter pain relievers – acetaminophen or ibuprofen.
Braces or compression wraps can help support the body and alleviate symptoms during healing and recovery.
Exercises to improve posture
Paying attention to form when lifting objects
Stretching can help ease the pain.
Medication
Medications can be used in a variety of ways to help in the treatment of lower back and pelvic pain. If an infection is the cause, medications will be prescribed to remove the infection and resolve the symptoms, which can include:
Antibiotics
Antifungals
Antivirals
Medications may also be prescribed to help manage pain symptoms and may include:
Medication to relieve nerve pain
Muscle relaxants
Steroids
Physical Therapy
A physical therapist can help to correct problems with:
Posture
Decreased mobility
Walking gait
Strengthening
A physical therapist will provide exercises to help increase and maintain strength, range of motion, and flexibility.
Pelvic Floor Therapy
This is physical therapy that focuses on the muscles, ligaments, and connective tissues in the pelvis.
It helps with pain, weakness, and dysfunction in the pelvic area.
A treatment plan will be developed to help with strength and range of motion in the pelvic muscles.
Chiropractic Care
Surgery
Some more severe conditions could require surgery.
Ovarian cysts, hernias, and other infections sometimes require surgery to remove infected or unhealthy tissue – ruptured ovarian cysts or appendicitis.
Recommended surgeries can include:
A hernia repair.
Hip replacement.
Gallbladder removal to prevent recurring pancreatitis.
Prevention
Not all conditions and diseases cause lower back and pelvic pain. Symptoms can be prevented and reduced by adopting lifestyle changes. Prevention recommendations can include:
Staying hydrated.
Using proper bending and lifting techniques.
Eating healthy foods.
Regularly engaging in some form of physical activity – walking, swimming, yoga, cycling, or strength training.
Maintaining a healthy weight.
---
Pregnancy and Sciatica
---
References
Richardson, W. S., Jones, D. G., Winters, J. C., & McQueen, M. A. (2009). The treatment of inguinal pain. Ochsner journal, 9(1), 11–13.
Kurosawa, D., Murakami, E., & Aizawa, T. (2017). Groin pain associated with sacroiliac joint dysfunction and lumbar disorders. Clinical neurology and neurosurgery, 161, 104–109. doi.org/10.1016/j.clineuro.2017.08.018
Johns Hopkins Medicine. Appendicitis.
Mount Sinai. Splenomegaly.
Santilli, V., Beghi, E., & Finucci, S. (2006). Chiropractic manipulation in the treatment of acute back pain and sciatica with disc protrusion: a randomized double-blind clinical trial of active and simulated spinal manipulations. The spine journal : official journal of the North American Spine Society, 6(2), 131–137. doi.org/10.1016/j.spinee.2005.08.001
Post Disclaimer
Professional Scope of Practice *
The information herein on "Understanding Lower Back and Pelvic Pain in Women" is not intended to replace a one-on-one relationship with a qualified health care professional or licensed physician and is not medical advice. We encourage you to make healthcare decisions based on your research and partnership with a qualified healthcare professional.
Blog Information & Scope Discussions
Our information scope is limited to Chiropractic, musculoskeletal, physical medicines, wellness, contributing etiological viscerosomatic disturbances within clinical presentations, associated somatovisceral reflex clinical dynamics, subluxation complexes, sensitive health issues, and/or functional medicine articles, topics, and discussions.
We provide and present clinical collaboration with specialists from various disciplines. Each specialist is governed by their professional scope of practice and their jurisdiction of licensure. We use functional health & wellness protocols to treat and support care for the injuries or disorders of the musculoskeletal system.
Our videos, posts, topics, subjects, and insights cover clinical matters, issues, and topics that relate to and directly or indirectly support our clinical scope of practice.*
Our office has reasonably attempted to provide supportive citations and has identified the relevant research study or studies supporting our posts. We provide copies of supporting research studies available to regulatory boards and the public upon request.
We understand that we cover matters that require an additional explanation of how it may assist in a particular care plan or treatment protocol; therefore, to further discuss the subject matter above, please feel free to ask Dr. Alex Jimenez, DC, or contact us at 915-850-0900.
We are here to help you and your family.
Blessings
Dr. Alex Jimenez DC, MSACP, RN*, CCST, IFMCP*, CIFM*, ATN*
email: coach@elpasofunctionalmedicine.com
Licensed as a Doctor of Chiropractic (DC) in Texas & New Mexico*
Texas DC License # TX5807, New Mexico DC License # NM-DC2182
Licensed as a Registered Nurse (RN*) in Florida
Florida License RN License # RN9617241 (Control No. 3558029)
Presently Matriculated: ICHS: MSN* FNP (Family Nurse Practitioner Program)
Dr. Alex Jimenez DC, MSACP, RN* CIFM*, IFMCP*, ATN*, CCST
My Digital Business Card