For individuals dealing with pain, inflammatory conditions, and stress issues, could adding acupuncture to a treatment plan help bring relief and healing?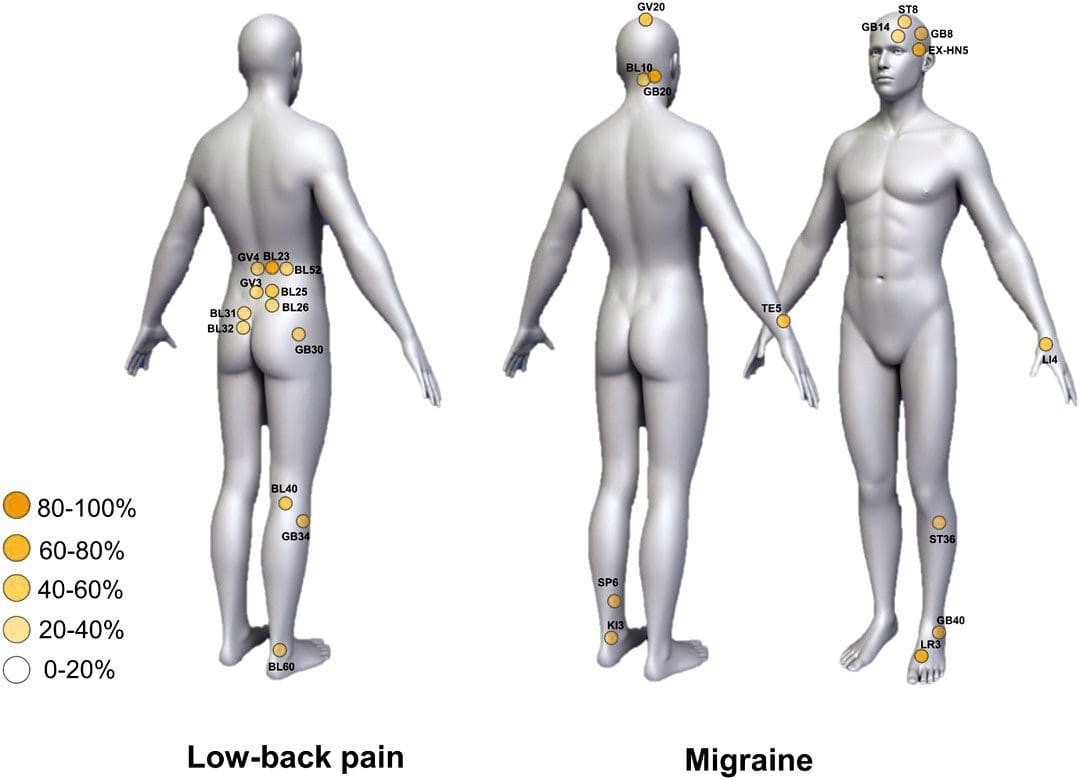 Acupuncture Treatment
Acupuncture treatment is a traditional Chinese medicine based on circulating the body's life energy, or qi, with the idea that a blockage or disturbance in the energy flow can cause health issues. Acupuncturists insert thin needles into specific points throughout the body to rebalance the body's energy, stimulate healing, and promote relaxation. (Johns Hopkins Medicine. 2023) Researchers are not exactly sure how the treatment works; however, theories suggest that it can help release endorphins, as well as influence the autonomic nervous system.
How Does It Work?
Researchers have not been able to understand how acupuncture works fully, but some theories include:
The needles stimulate the release of endorphins – the body's natural pain-relieving chemicals.
They can influence the autonomic nervous system, and specific needle placement impacts breathing, blood pressure, and heart rate. (Tony Y. Chon, Mark C. Lee. 2013)
Conditions
Acupuncture has been useful for a variety of conditions, including (Tony Y. Chon, Mark C. Lee. 2013)
Chronic pain
Migraines and associated symptoms
Sinus congestion or nasal stuffiness
Insomnia and sleep-related difficulties
Stress
Anxiety
Arthritis joint inflammation
Nausea
Infertility – difficulty getting pregnant
Depression
Skin appearance (Younghee Yun et al., 2013)
Benefits
The health benefits can vary depending on the individual. It may take several sessions before benefits are noticed. (Tony Y. Chon, Mark C. Lee. 2013) Research is still limited; however, there are some studies that found acupuncture to be helpful for certain conditions.
Low Back Pain
A study on non-pharmacological options for lower back pain showed that acupuncture treatment relieved intense pain and promoted better back functioning.
However, in terms of long-term benefits, it was not clear how helpful the treatment was. (Roger Chou, et al., 2017)
Migraines
Research done over a six-month period showed that:
Acupuncture was able to reduce the frequency of migraine symptoms by half in 41% of individuals compared to those not receiving acupuncture.
Treatment was noted as being helpful as preventative migraine medications. (Klaus Linde, et al., 2016)
Tension Headaches
According to research, having at least six acupuncture sessions may be helpful for individuals with frequent head pain or pressure/tension headaches.
This study also noted that acupuncture, combined with pain medication, significantly reduced headache frequency compared to those only given medication. (Klaus Linde, et al., 2016)
Knee Pain
Multiple studies found that acupuncture treatment may be able to improve knee function short and long-term in individuals who have knee osteoarthritis.
This condition causes the connective tissue in the knee to break down.
The study also found that treatment was able to help with osteoarthritis and decrease knee pain but was only helpful for the short term. (Xianfeng Lin, et al., 2016)
Another review looked at multiple studies that found that treatment delayed and reduced the use of pain medication in individuals who had knee replacement surgery. (Dario Tedesco, et al., 2017)
Facial Elasticity
Cosmetic or facial acupuncture is used to improve the appearance of the skin on the head, face, and neck.
In a study, individuals had five acupuncture sessions in three weeks, and a little over half of the participants showed skin elasticity improvement. (Younghee Yun et al., 2013)
The Process
Before getting acupuncture treatment, the acupuncturist will ask the individual about their medical history and may perform a physical examination.
Thin needles are placed in specific areas to address your concern or condition.
The acupuncturist may gently twist the needles to emphasize stimulation.
The needles are left in for 20 to 30 minutes, with the total session lasting anywhere from 30 minutes to an hour. (Tony Y. Chon, Mark C. Lee. 2013)
The acupuncturist may use additional techniques that can include: (Tony Y. Chon, Mark C. Lee. 2013)
Moxibustion
This is the burning of dried herbs near the acupuncture needles to warm and stimulate the points and enhance healing.
Electroacupuncture
An electrical device is connected to the needles, providing a gentle electrical current that stimulates the muscles.
Cupping
Glass or silicone cups are placed on the area, creating a vacuum/suction effect, which helps stimulate blood circulation and rebalance the energy. (Johns Hopkins Medicine. 2023)
After the treatment, some individuals may feel relaxed, while others may feel energized.
Is It Painful?
Individuals may feel a slight ache, sting, or pinch as the needle is inserted. Some acupuncturists adjust the needle after it has been inserted, which can cause additional pressure.
Once the needle is properly placed, individuals may feel a tingling or heavy feeling, referred to as de qi. (National Institutes of Health. (N.D.)
Let the acupuncturist know if there is discomfort or increased pain at any point during the session.
Intense pain may mean the needle has not been inserted or placed correctly. (Johns Hopkins Medicine. 2023)
Side Effects
As with any treatment, side effects can present in individuals that include:
Pain and bleeding from the needle insertion
Bruising around the area, the needles were placed
Nausea
Allergic reaction
Skin rash
Infections
Dizziness (Malcolm W. C. Chan et al., 2017)
In order to reduce the risks, the treatment should always be done by a licensed trained healthcare provider using clean, disposable needles. It is recommended to consult with a primary care physician before getting acupuncture, as the treatment may not be right for individuals with certain health conditions.
---
Heel Spurs
---
References
Johns Hopkins Medicine. (2023) Acupuncture.
Chon, T. Y., & Lee, M. C. (2013). Acupuncture. Mayo Clinic proceedings, 88(10), 1141–1146. doi.org/10.1016/j.mayocp.2013.06.009
Yun, Y., Kim, S., Kim, M., Kim, K., Park, J. S., & Choi, I. (2013). Effect of facial cosmetic acupuncture on facial elasticity: an open-label, single-arm pilot study. Evidence-based complementary and alternative medicine : eCAM, 2013, 424313. doi.org/10.1155/2013/424313
Chou, R., Deyo, R., Friedly, J., Skelly, A., Hashimoto, R., Weimer, M., Fu, R., Dana, T., Kraegel, P., Griffin, J., Grusing, S., & Brodt, E. D. (2017). Nonpharmacologic Therapies for Low Back Pain: A Systematic Review for an American College of Physicians Clinical Practice Guideline. Annals of internal medicine, 166(7), 493–505. doi.org/10.7326/M16-2459
Linde, K., Allais, G., Brinkhaus, B., Fei, Y., Mehring, M., Vertosick, E. A., Vickers, A., & White, A. R. (2016). Acupuncture for the prevention of episodic migraine. The Cochrane database of systematic reviews, 2016(6), CD001218. doi.org/10.1002/14651858.CD001218.pub3
Linde, K., Allais, G., Brinkhaus, B., Fei, Y., Mehring, M., Shin, B. C., Vickers, A., & White, A. R. (2016). Acupuncture for the prevention of tension-type headache. The Cochrane database of systematic reviews, 4(4), CD007587. doi.org/10.1002/14651858.CD007587.pub2
Lin, X., Huang, K., Zhu, G., Huang, Z., Qin, A., & Fan, S. (2016). The Effects of Acupuncture on Chronic Knee Pain Due to Osteoarthritis: A Meta-Analysis. The Journal of bone and joint surgery. American volume, 98(18), 1578–1585. doi.org/10.2106/JBJS.15.00620
Tedesco, D., Gori, D., Desai, K. R., Asch, S., Carroll, I. R., Curtin, C., McDonald, K. M., Fantini, M. P., & Hernandez-Boussard, T. (2017). Drug-Free Interventions to Reduce Pain or Opioid Consumption After Total Knee Arthroplasty: A Systematic Review and Meta-analysis. JAMA surgery, 152(10), e172872. doi.org/10.1001/jamasurg.2017.2872
National Institutes of Health. (N.D.) De qi sensation.
Chan, M. W. C., Wu, X. Y., Wu, J. C. Y., Wong, S. Y. S., & Chung, V. C. H. (2017). Safety of Acupuncture: Overview of Systematic Reviews. Scientific reports, 7(1), 3369. doi.org/10.1038/s41598-017-03272-0
Post Disclaimer
Professional Scope of Practice *
The information herein on "Acupuncture Treatment: A Guide to Unlocking Its Benefits" is not intended to replace a one-on-one relationship with a qualified health care professional or licensed physician and is not medical advice. We encourage you to make healthcare decisions based on your research and partnership with a qualified healthcare professional.
Blog Information & Scope Discussions
Our information scope is limited to Chiropractic, musculoskeletal, physical medicines, wellness, contributing etiological viscerosomatic disturbances within clinical presentations, associated somatovisceral reflex clinical dynamics, subluxation complexes, sensitive health issues, and/or functional medicine articles, topics, and discussions.
We provide and present clinical collaboration with specialists from various disciplines. Each specialist is governed by their professional scope of practice and their jurisdiction of licensure. We use functional health & wellness protocols to treat and support care for the injuries or disorders of the musculoskeletal system.
Our videos, posts, topics, subjects, and insights cover clinical matters, issues, and topics that relate to and directly or indirectly support our clinical scope of practice.*
Our office has reasonably attempted to provide supportive citations and has identified the relevant research study or studies supporting our posts. We provide copies of supporting research studies available to regulatory boards and the public upon request.
We understand that we cover matters that require an additional explanation of how it may assist in a particular care plan or treatment protocol; therefore, to further discuss the subject matter above, please feel free to ask Dr. Alex Jimenez, DC, or contact us at 915-850-0900.
We are here to help you and your family.
Blessings
Dr. Alex Jimenez DC, MSACP, RN*, CCST, IFMCP*, CIFM*, ATN*
email: coach@elpasofunctionalmedicine.com
Licensed as a Doctor of Chiropractic (DC) in Texas & New Mexico*
Texas DC License # TX5807, New Mexico DC License # NM-DC2182
Licensed as a Registered Nurse (RN*) in Florida
Florida License RN License # RN9617241 (Control No. 3558029)
Presently Matriculated: ICHS: MSN* FNP (Family Nurse Practitioner Program)
Dr. Alex Jimenez DC, MSACP, RN* CIFM*, IFMCP*, ATN*, CCST
My Digital Business Card