Now and days, mostly everyone has a gluten sensitivity or a gluten allergen in their bodies. This could happen to anyone whenever they are eating gluten-contained food or products and suddenly feel unwell or their gut acts differently throughout the day. Or they actually get tested by their physicians and realizes that they have celiac disease. In the last article and the previous one after that, we talked about the 8 products that have hidden gluten in them; as well as the introduction of the wheat zoomer we use for our patients.
Here at Injury Medical Clinic, Dr. Alexander Jimenez consults with our patients about certain zoomers that can actually aid the patient's body. In this article, we review the factors that affect test results such as medication and fasting after taking the Wheat Zoomer, as well as, focusing heavily on the mechanism of the intestinal permeability, the structure and function of the epithelium. We also focus about important immunomodulatory metabolites, epithelial cell types and the roles in the epithelial barrier.
Intestinal Permeability
Let's start with the mechanisms of intestinal permeability. The main purpose of the intestinal epithelium is to keep the good things in and the bad things out. While the system is complex and ever changing, it still sends out a message to the host and maintain balance both physical and biochemical as a protective barrier.  There is an abundance of antigen sampling to regulates the flow of nutrients in the host's body, as well as, keeping an eye on the body by the mucosal immune system. Not only that, if you have an injury or an acute inflammation, the intestinal epithelium will support tissue repair by coordinating with microbiota.
Another thing that the epithelium does is that it responds to the microbial signals that will make our bodies tolerate any continuous exposure to commensal bacteria. But we do want to keep the good bacteria in our bodies but get rid of the bad bacteria, so our bodies feel good. The intestinal epithelium also convey microbial signals to the mucosal immune cells, while promoting a coordinating immune response to battle against commensal bacteria and the enteric pathogens, since these two microsomes should not be in places they are not allowed in.
While the epithelium is battling with the bad bacteria in our system, it also regulates the B and T cell response to either, control inflammation, squash inflammation, or cause inflammation on the intestinal barrier, depending on the situation. Plus the epithelium locally regulates the immune response at the intestinal barrier by influencing innate and adaptive immune responses to the body's intestines.
However, if there is something disrupting the intestines, like chronic inflammation or leaky gut; the epithelium barrier can be compromised. In order for us to fix a leaky gut, we must learn what is causing the inflammation in the first place. The epithelium is home to many microbes, immune cells and can determined if we need the immune response on any harsh exposure. If we can learn more about these mechanisms, then we can calm down the inflammation by resetting it back to its calm, natural state.
But the immune cells in our intestinal epithelium can also cause disruption on our gut by leaking out of the protective barriers and attacking the pathogens anywhere in our system. So epithelial permeability can not only cause inflammation but prevent it in our intestines, which is both good and bad depending on the situation.
Dr. Alexander Jimenez consults with our patients with natural alternatives of healing inflammation in their gastral intestines.  If he can find the sources of what causes the inflammations in your gut, then he can work with aiding them with functional medicines while informing you what they can do to heal your gut.
Now let's looks at the intestines and the many microsomes that they contain. Here are some microsomes we will be discussing as well as what is their key roles in the intestines; so we can figure out how to prevent a leaky gut.
The Mucosa
This is in both the small intestines and the large intestines and are completely different. The small intestines has one mucus layer and has limited microbes inside it's mucosa, while the large intestines has an attached inner mucosa and a loose outer mucosa. The mucosa plays an important role in the intestines because it can tell 'Friend' from 'Foe' in the immune system.
Important Tight Junction Proteins
The tight junction is an important function in the intestinal epithelium as it is one of the barriers that separates what comes in and what comes out in our gut.
Actin: Are the structure and functions of tight junctions. But they constantly disassemble and reassemble actin filaments if they are anti-Actins. It is controlling the tight junctions cells as it acts like a contractable belt by pulling or contracting the junctions in the intestinal cells.
Zonulin: They are the 'gatekeeper' proteins that are responsible for opening or closing the tight junctions. Zonulin acts the mortar of the intestines and is associated when gluten sensitivity is present, if there are low counts of zonulin thus causing inflammation.
LPS(Lipopolysaccharide): These sent out a signal to the tight junction permeability as they find signs of bacterial endotoxin by translocating across the epithelial barrier and entering circulation. LPS is made up of gram negative bacteria in the GI tract. LPS outside the epithelial cell wall and reacts to fatty acids, which can lead to obesity for individuals.
Cell Receptors Involved in the Barrier Integrity
These cells are protectors of the epithelial barrier walls as they strengthen the immune intolerance and digestive tract, as well as causing or preventing inflammation when necessary.
G Protein Coupled Receptors (GPCRs): GPCRs are the main players of the immune system in the epithelial system. A wide variety of substances can bind with GPCRs depending what the substances are. Short chain fatty acids, omega-3's and any food that we eat is fermented by our gut and stimulate repair on the epithelial barrier. However if there is a consumption of low or zero-fiber in our diet, the food will not be fermented and causes inflammation.
Aryl Hydrocarbon Receptors (AhRs): AhRs interact with a range of aromatic hydrocarbons like food and microbes both in and out of the gut. These receptors respond strongly to compounds found in cruciferous vegetables, thus preventing a heighten immune reaction and reducing epithelial damage as well as promoting functioning intraepithelial lymphocytes (IELs).
But if we are not eating enough cruciferous vegetables, the IELs are being produced less, the epithelial barrier is compromised and will cause inflammation.
Bile Acid Receptors (BARs): BARs recognize primary and secondary bile acid. The primary bile acids comes from the liver and then transformed into secondary bile acids by microbes. BARs play an important role in in metabolic regulation, however if there is suppression of bile in the GI tract; then the intestinal barrier is more susceptible to destruction. However, if you are producing a low bile count or obstructed bile flow, it can be the result of the microbes translocating to the small intestines and causing mucosal inflammation, SIBO and leaky gut.
Epithelial Cells Involved in the Barrier Integrity
These cells are very important to the intestinal epithelial barrier as they can either protect the barrier walls or can lead them to their demised.
Dendritic cells: Dendritic cells are presenting antigen cells that are found the epithelial layer. These cells sample and present antigens it to Tcells, thus activating immune response. Dendritic cells help the Tcells tell the difference between self and non-self because if we eat commonly consumed foods or foreign antigens are present, we don't want our immune system to rise up…most of the times.
Goblet cells: Goblet cells are very important of the epithelial barrier because they provide the mucus barrier that coats and protects the intestinal walls. Without this mucus barrier, we will sick and any harmful bacteria will come in and out of the intestinal barriers.
Enteroendocrine cells: Enteroendocrine cells host receptors and produce a wide range of hormones, enzymes and neurotransmitters that affect or control our appetite, digestive functions, motility and interacts with microbial communities. However, these cells can either be beneficial or not if the host diet is in played.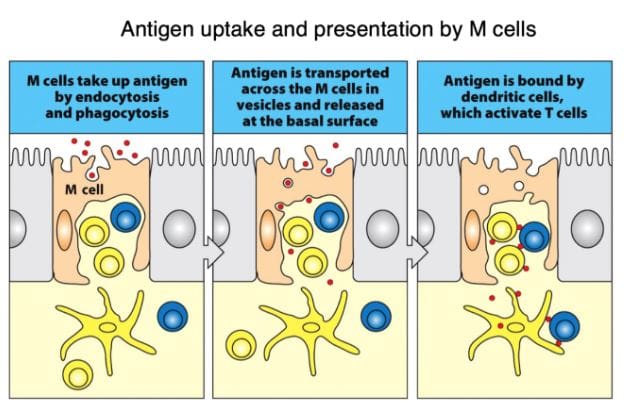 M cells: Microfold cells or M cells are located over the Peyer's patches and they constantly sample outside the intestinal epithelial barriers for any microbes that pose a threat. They also present antigens from the outside to the dendritic cells to activate the Tcell response, as well as consuming the antigen by neutralizing it. Without the M cells, we risk of losing tolerance to microbes, thus causing inflammation on our intestinal barriers.
Conclusion
In total, we now have a deeper knowledge of our gut system as well as taking an in depth look on what our intestinal gut goes through to stop inflammation. In order to stop leaky gut, we must change our eating habits gradually when we want a healthier life. Dr. Alexander Jimenez does discuss to our patients the importance of protecting our gut with functional medicine as well as, encouraging our patients to take that first step into a healthy lifestyle.
Post Disclaimer
Professional Scope of Practice *
The information herein on "Gut Microbe Busters El Paso, Texas" is not intended to replace a one-on-one relationship with a qualified health care professional, or licensed physician, and is not medical advice. We encourage you to make your own healthcare decisions based on your research and partnership with a qualified healthcare professional.
Blog Information & Scope Discussions
Our information scope is limited to Chiropractic, musculoskeletal, physical medicines, wellness, contributing etiological viscerosomatic disturbances within clinical presentations, associated somatovisceral reflex clinical dynamics, subluxation complexes, sensitive health issues, and/or functional medicine articles, topics, and discussions.
We provide and present clinical collaboration with specialists from a wide array of disciplines. Each specialist is governed by their professional scope of practice and their jurisdiction of licensure. We use functional health & wellness protocols to treat and support care for the injuries or disorders of the musculoskeletal system.
Our videos, posts, topics, subjects, and insights cover clinical matters, issues, and topics that relate to and support, directly or indirectly, our clinical scope of practice.*
Our office has made a reasonable attempt to provide supportive citations and has identified the relevant research study or studies supporting our posts. We provide copies of supporting research studies available to regulatory boards and the public upon request.
We understand that we cover matters that require an additional explanation of how it may assist in a particular care plan or treatment protocol; therefore, to further discuss the subject matter above, please feel free to ask Dr. Alex Jimenez DC or contact us at 915-850-0900.
We are here to help you and your family.
Blessings
Dr. Alex Jimenez DC, MSACP, CCST, IFMCP*, CIFM*, ATN*
email: coach@elpasofunctionalmedicine.com
Licensed in: Texas & New Mexico*
Dr. Alex Jimenez DC, MSACP, CIFM*, IFMCP*, ATN*, CCST
My Digital Business Card