Ankle Fractures
10% of all fractures. 2nd m/c following femoral neck Fx. Demographics: young active males and older osteoporotic females
Stable Fx: overall prognosis is good
Unstable Fx: require ORIF. 15%-20% chances of 2nd OA.
Role of imaging is to determine the complexity, stability and care planning (i.e. operative vs. conservative)
Weber classification considers tearing of distal tibial-fibular syndesmosis and potential instability
Weber A – below syndesmosis. Stable, typically avulsion of distal fibular malleolus
Weber B – at the level of syndesmosis: may be outside syndesmosis and stable or tearing syndesmosis and unstable
Weber C – above syndesmosis. Always nstable d/t tearing of syndesmosis
Variations of fractures may involve the postition/role of the talus bone during Fx (e.g. abduction, adduction, rotation etc.) this is known as Lauge-Hanson classification
Tibiofibular Syndesmosis & Ankle Stability
Denis-Weber classification of ankle fractures
Clinical Dx Accuracy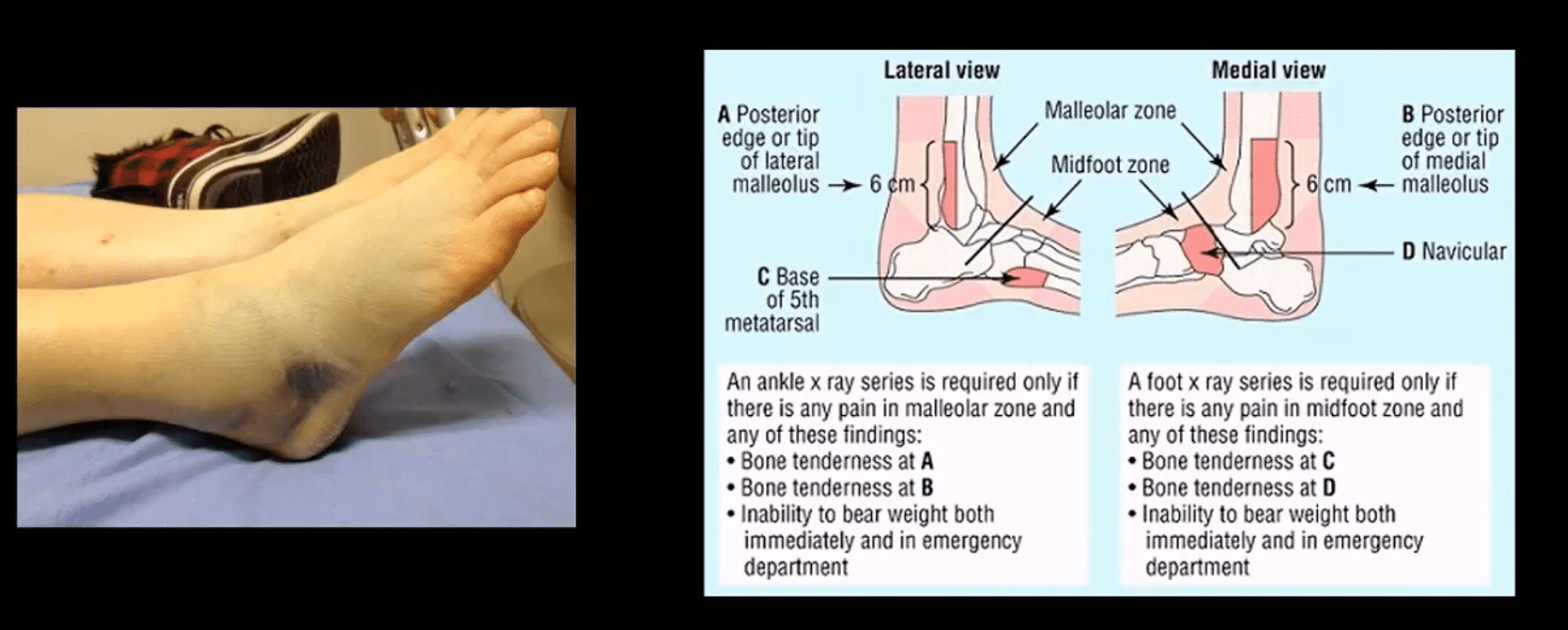 Mortise & AP Views

AP, Medial Oblique & Lateral Views
Reveal infrasyndesmotic Fx of fibular malleolus (Weber A)
Stable Injury
Conservative care in the form of short-leg walking cast/boot can be used. Good recovery. If no evidence of ostechondral injury, relatively low chances of post-traumatic OA
No further imaging required. MRI may help to reveal bone contusion and osteochondral injury
Weber B at Level of Syndesmosis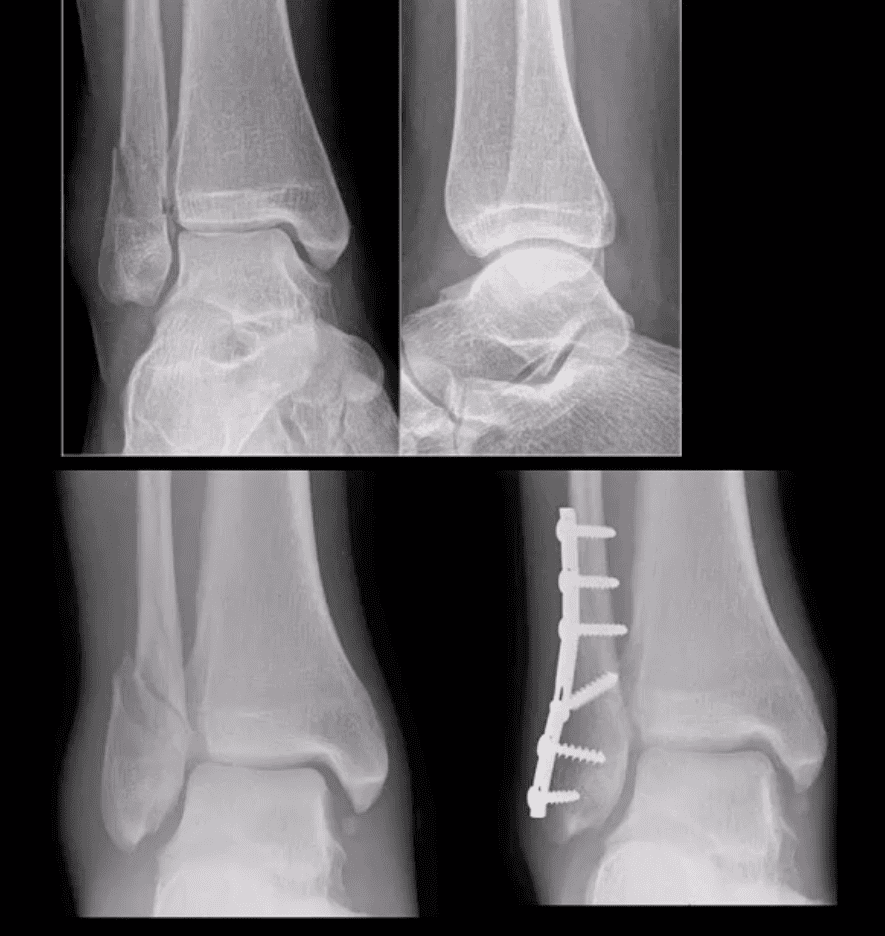 Can be stable or unstable. On occasions, the decision is made during operative exploration.
CT scanning may help with further evaluation
Management: depends on stability. Additional stabilization required if syndesmosis is ruptured
Weber C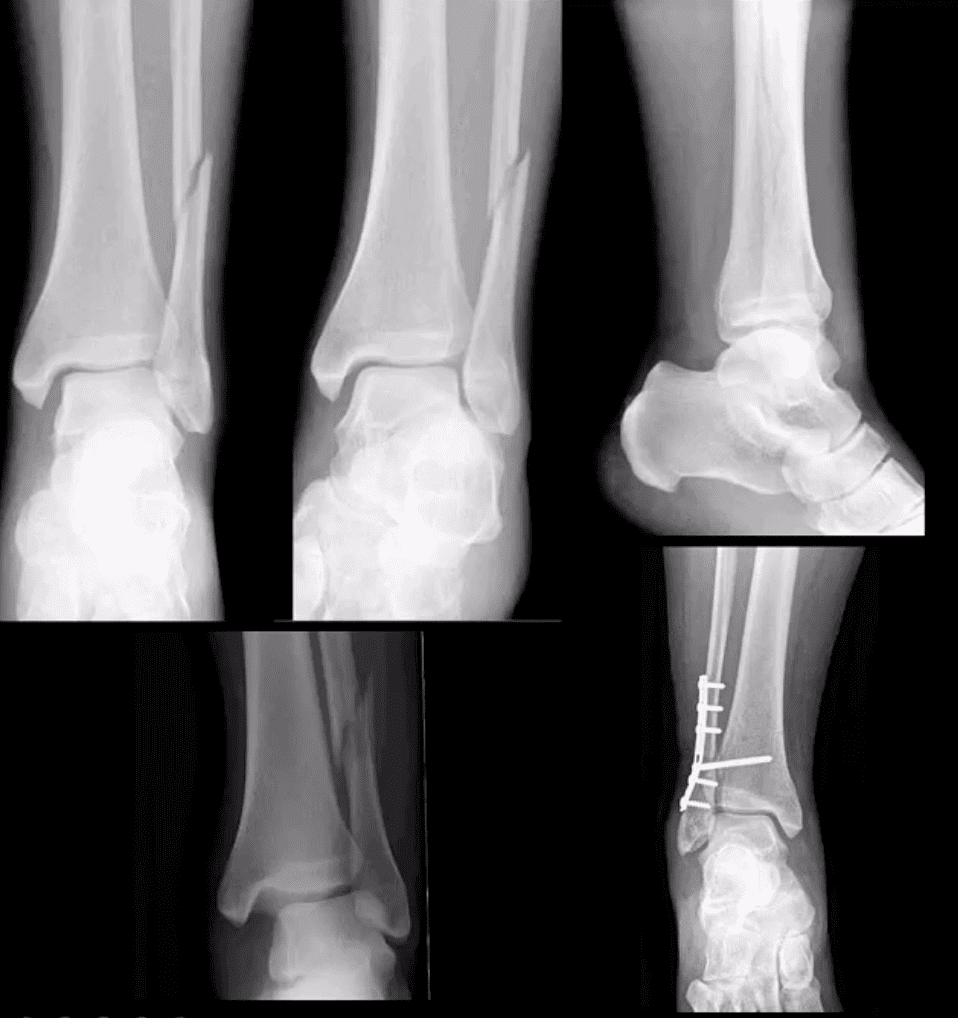 AP, medial oblique and lateral views reveal Weber C – suprasyndesmotic injury with abnormal joint widening d/t disruption of tib-fib syndesmosis. Very unstable injury.
Occasionally, when Weber C Fx positioned 6-cm from the tip of the lateral malleolus it may be termed as Pott's ankle Fx (name after Percival Pott's who has porposed the original classification of ankle fractures based on their stability and degree of rotation). The term is somewhat outdated.
Management: operative with additional stabilization of the syndesmosis
Maisonneuve Fracture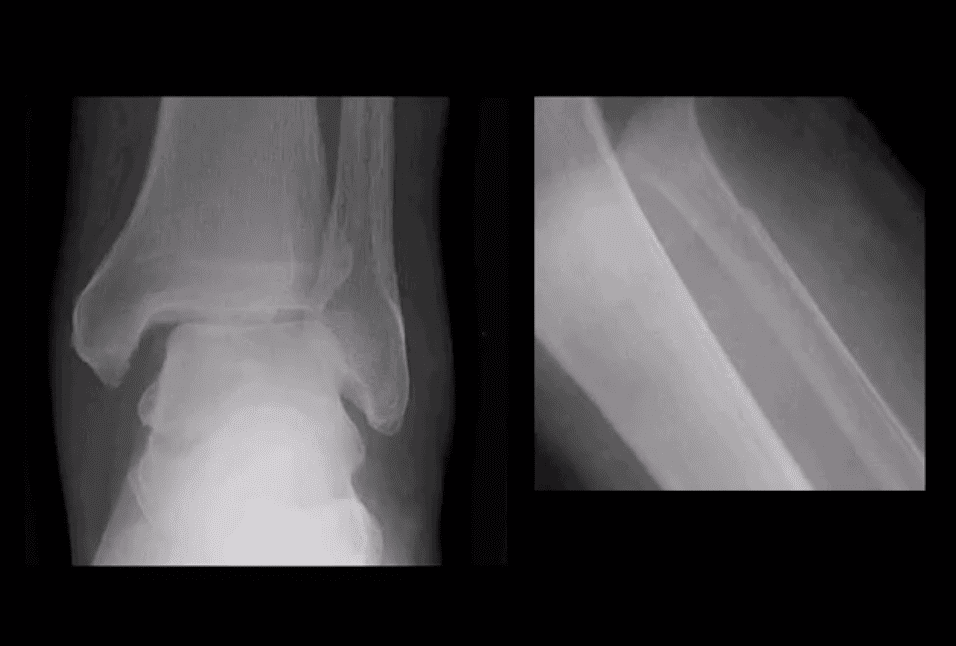 Often spiral fracture of the proximal fibula combined with an unstable ankle injury
No immediate ankle fracture is noted radiographically, thus can be missed on ankle views and require tibia and fibula views
Rad features: widening of the ankle d/t syndesmosis tear and sometimes deltoid ligament disruption. Interosseous membrane is torn with proximal fibular Fx caused by pronation with external-rotation force
Management: operative
Bimalleolar & Trimalleolar Fx
Above top images Bimalleolar Fx v. unstable, result of pronation and abduction/external rotation. Rx: ORIF.
Trimalleolar Fx: 3-parts ankle Fx. Medial and lateral malleolus and avulsion of theposterior aspect of tibial plafond. More unstable. Rx: operative
Tillaux Fx
Pediatric Fx affecting older child when medial side of the physis is closed or about to close with lateral side till open. Avulsion by anterior tibi-fibular ligament. Complications: 2nd dry/premature OA. Rx: can be conservative if stable by boot cast immobilization.
Pediatric Growth Plate Injuries
Salter-Harris classification helps to diagnose and prognosticate physeal injuries.
Helpful mnemonic: SALTR
S: type 1-slip through growth plate
A: type 2-above, Fx extends into metaphysis
L: type 3-lower, intra-articular Fx extends through the epiphysis
T: type4, "through" Fx extends through all: physis, metapysis and epiphysis.
R: type 5, "ruined." Crush injury to physis leading to complete death of teh growth plate
Type 1 and 5: present with no fracture
Type 2: has the best prognosis and considered the most common.
Management: referral to pediatric orthopedic surgeon
Complications: early physis closure, limb shortening, premature OA and others.
Calcaneal Fracture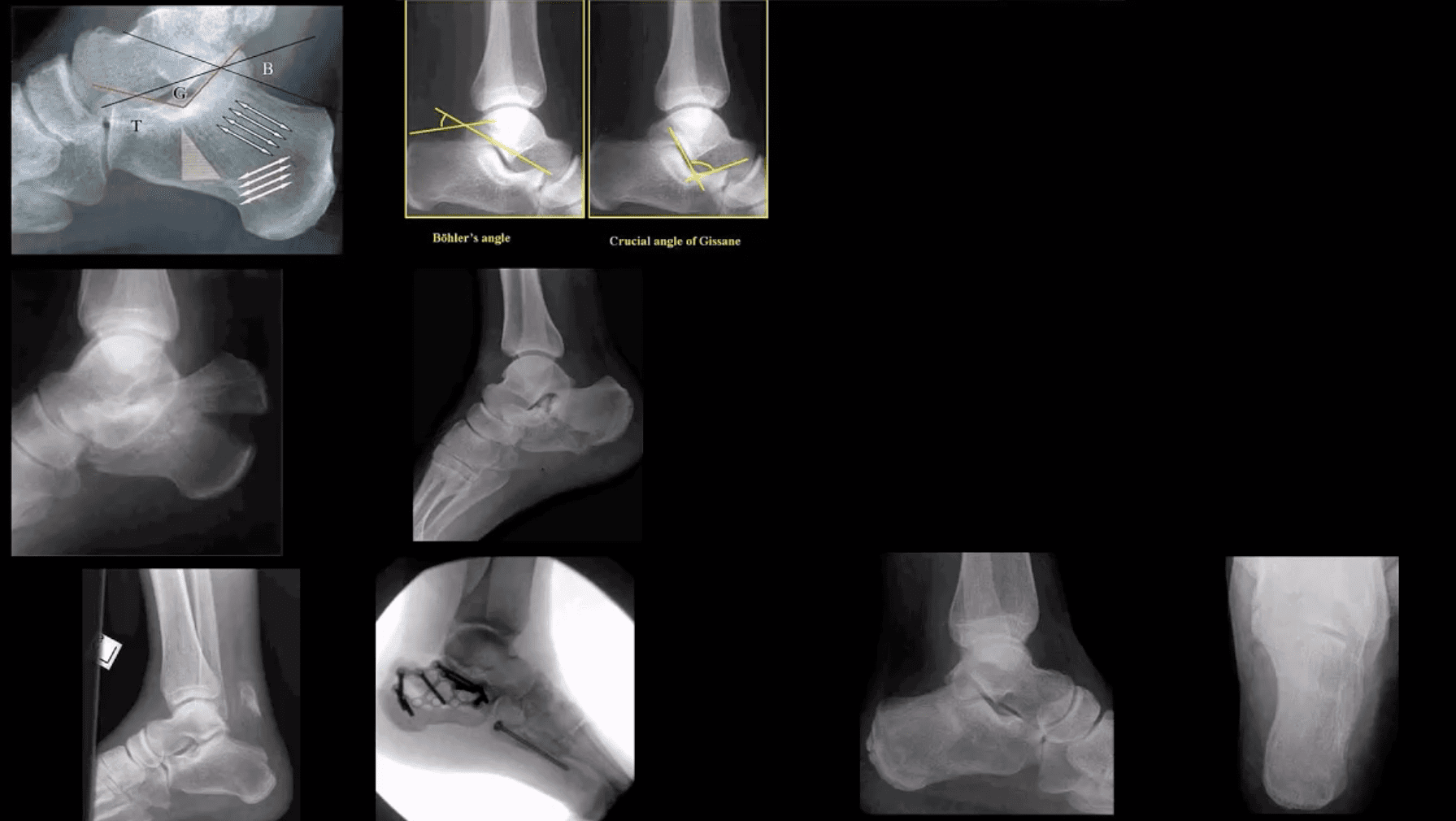 Most frequent tarsal Fx. 17% open Fx
Mechanisms: axial loading (intra-articular Fx into sub-talar and calcaneal-cuboid joints in 75% cases). Avulsion by Achilles tendon (m/c in osteoporotic bone). Stress (fatigue) Fx.
Intra-articular Fx carries a poor prognosis. Typically comminuted. Rx: operative.
B/I calcaneal intra-articular fx with associated vertebra compression Fx with associated vertebral compression Fx (T10-L2) often termed Casanova aka Don Juan (Lover's) fx.
Imaging: x-radiography with added "heel view" 1st step. CT scanning is best for Dx and pre-op planning.
Radiography: Bohler's angle (<20-degrees) Gissane angle >130-degrees. Indicate Calcan, Fx.
Tarsal Bones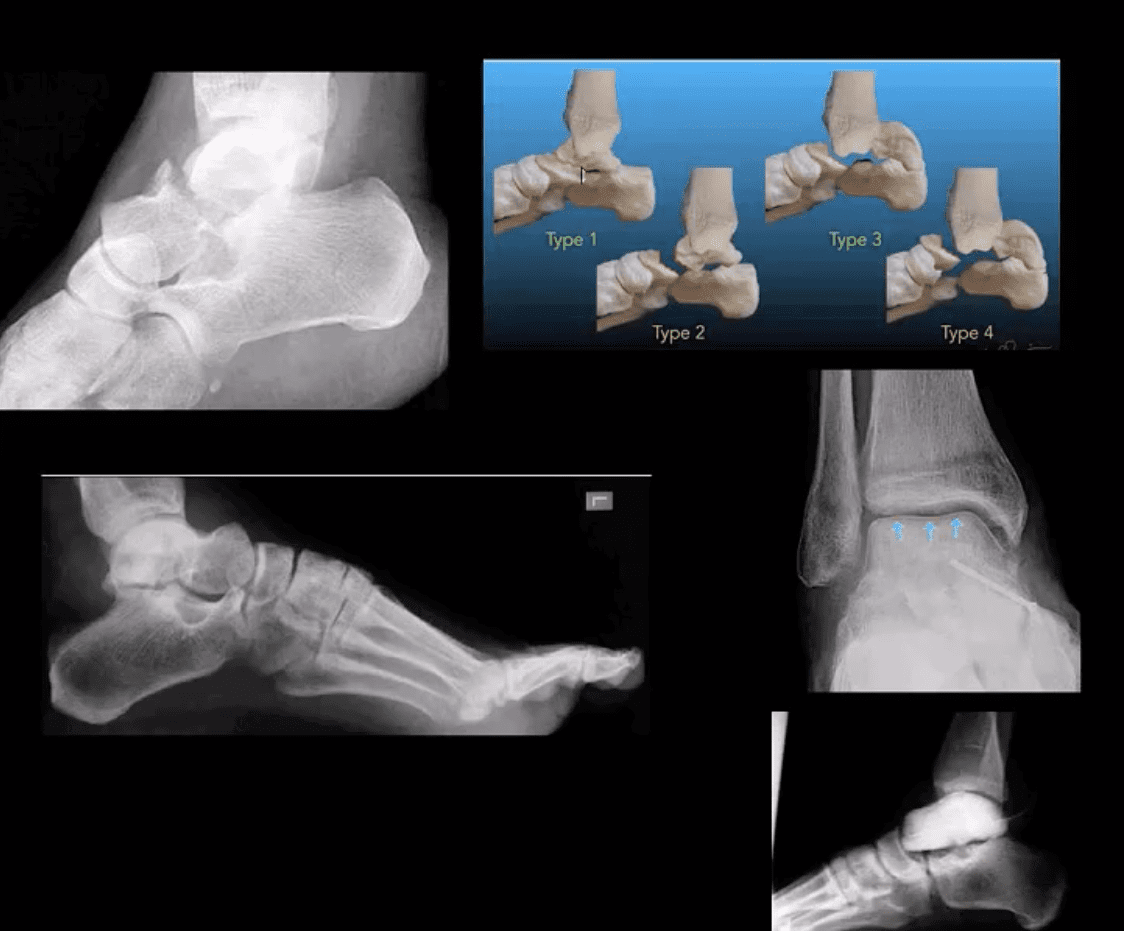 M/C fractured tarsal bone is the Talus. M/C region: talar neck (30-50%). Mechanism: Axial loading in dorsiflexion. Complications: Ischemic osteonecrosis (AVN) of the talus. Premature (2nd OA). Imaging: 1st step: radiographs, CT can be helpful with further delineation
Hawkins classification helps with Dx, prognosis & treatment. "Hawkins sign' on plain film/CT scan may help with AVN Dx. (above blue arrows indicate good prognosis d/t radioluncent line indicating no AVN because bone is vascularized and hence resorbed)
Rx: Type 1: conservative with short leg cast or boot (risk of AVN-0-15%), Type 2-4-ORIF (risk of AVN 50%-100%)
Ankle & Foot Imaging
Post Disclaimer
Professional Scope of Practice *
The information herein on "Ankle & Foot Diagnostic Imaging Arthritis & Trauma I | El Paso, TX." is not intended to replace a one-on-one relationship with a qualified health care professional, or licensed physician, and is not medical advice. We encourage you to make your own healthcare decisions based on your research and partnership with a qualified healthcare professional.
Blog Information & Scope Discussions
Our information scope is limited to Chiropractic, musculoskeletal, physical medicines, wellness, contributing etiological viscerosomatic disturbances within clinical presentations, associated somatovisceral reflex clinical dynamics, subluxation complexes, sensitive health issues, and/or functional medicine articles, topics, and discussions.
We provide and present clinical collaboration with specialists from a wide array of disciplines. Each specialist is governed by their professional scope of practice and their jurisdiction of licensure. We use functional health & wellness protocols to treat and support care for the injuries or disorders of the musculoskeletal system.
Our videos, posts, topics, subjects, and insights cover clinical matters, issues, and topics that relate to and support, directly or indirectly, our clinical scope of practice.*
Our office has made a reasonable attempt to provide supportive citations and has identified the relevant research study or studies supporting our posts. We provide copies of supporting research studies available to regulatory boards and the public upon request.
We understand that we cover matters that require an additional explanation of how it may assist in a particular care plan or treatment protocol; therefore, to further discuss the subject matter above, please feel free to ask Dr. Alex Jimenez DC or contact us at 915-850-0900.
We are here to help you and your family.
Blessings
Dr. Alex Jimenez DC, MSACP, CCST, IFMCP*, CIFM*, ATN*
email: coach@elpasofunctionalmedicine.com
Licensed in: Texas & New Mexico*
Dr. Alex Jimenez DC, MSACP, CIFM*, IFMCP*, ATN*, CCST
My Digital Business Card