Ossification of Posterior Longitudinal Ligament (OPLL). Less frequent than DISH.
Greater clinical importance d/t spinal canal stenosis and cervical myelopathy
Asian patients are at higher risk
Both OPLL & DISH may co-exist and increase the risk of Fx
Imaging: x-rad: linear radioopacity consistent with OPLL
Imaging modality of choice: CT scanning w/o contrast
MRI may help  to evaluate myelopathy
Care: surgical with laminoplasty (above right image) that has been pioneered and advanced in the Far East
M/C Inflammatory Arthritis In Spine
Rheumatoid spondylitis (Rheumatoid arthritis) d/t inflammatory synovial proliferation pannus rich in lymphocytes, macrophages, and plasma cells
C/S RA may affect 70-90% of patients
Variable severity from mild to destructive disabling arthropathy
RA IN C/S m/c affects C1-C2 due to an abundance of rich synovial tissue
Typically infrequent in the thoracic/lumbar region
Sub-axial C/spine may be affected later due to facets, erosions, ligament laxity and instability showing "Stepladder" appearance
Clinically: HA, neck pain, myelopathy, etc. inc. Risk of Fx/subluxation. Any spinal manipulation HVLT ARE STRICTLY CONTRAINDICATED.
Rx: DMARD, anti-TNF-alfa, operative for subluxations, etc.
Rheumatoid Spondylitis C1-C2. Perform X-radiography initially with flexed-extended views. Note Dens erosion, C1-2 subluxation (2.5 mm) that changes on mobility
RA spondylitis: an erosion of the odontoid with the destruction of C1-C2 ligaments and instability
Stepladder aka Step-step sub-axial deformity d/t facets erosions and ligamentous destruction/laxity
MRI required to evaluate cord compression/myelopathy 
Sagittal T2 WI MRI of pt with RA. Rheumatoid pannus formation is present at C1-2 (arrow) causing mild cord compression
RA pannus may develop early before frank x-radiography changes noted
Clinically: HA, neck pain, tingling in UE, positive Lhermitte phenomenon d/t cervical myelopathy
Operative Care of Rheumatoid Spondylitis and Its Complications
Seronegative Spondyloarthropathies
Ankylosing Spondylitis (AS)
Enteropathic Arthritis (EnA) (d/t IBD: Crohn's & UC) identical to AS on imaging
Psoriatic Arthritis (PsA)
Reactive Arthritis (ReA)
All share the following features: m/c HLA-B27 marker, RF-, Sacroiliitis, Enthesitis, Ocular Involvement (i.e., conjunctivitis, uveitis, episcleritis, etc.)
AS & EnA are radiographically virtually indistinguishable, but EnA typically presents with less severe spinal changes than AS
Both PsA & ReA present with virtually identical spinal changes, but ReA typically affects the lower extremity compared to PsA affecting hands and feet
AS: likely autoimmune systemic inflammatory disease that targets SIJ, spinal facet joints annuls of the disc, rib joints and all spinal ligaments.
Key path feature: enthesitis.
Extraspinal features: uveitis, aortitis, pulmonary fibrosis, amyloidosis, cardiovascular disease.
M:F 4:1, age: 20-40 m/c. Clinic LBP/stiffness, reduced rib expansion <2 cm is > specific than HLA-B27, progressive kyphosis, risk of Fx's.

Imaging steps: 1st step-x-rays to id. Sacroiliitis/spondylitis. MRI & CT may help if x-rays are unrewarding.
Labs: HLA-B27, CRP/ESR, RF-
Dx: clinical+labs+imaging.
Rx: NSAID, DMARD, anti-TNF factor therapy
Key Imaging Dx: always presents initially as b/l symmetrical sacroiliitis that will progress to complete ankylosis. Spondylitis presents with continuous ascending discovertebral osteitis (i.e., marginal syndesmophytes, Romanus lesion, Anderson lesion), facets and all spinal ligament inflammation and fusion with a late feature of "bamboo spine, trolley track, dagger sign," all indicating complete spinal ossification/fusion. Increasing risk of Fx's.
Key Dx of Sacroiliitis
Blurring, cortical indistinctness/irregularity with adjacent reactive subchondral sclerosis initially identified primarily on the iliac side of  SIJs.
Normal SIJ should maintain a well defined white cortical line. Dimension 2-4 mm. May look incongruous d/t 3D anatomy masked by 2D x-rays.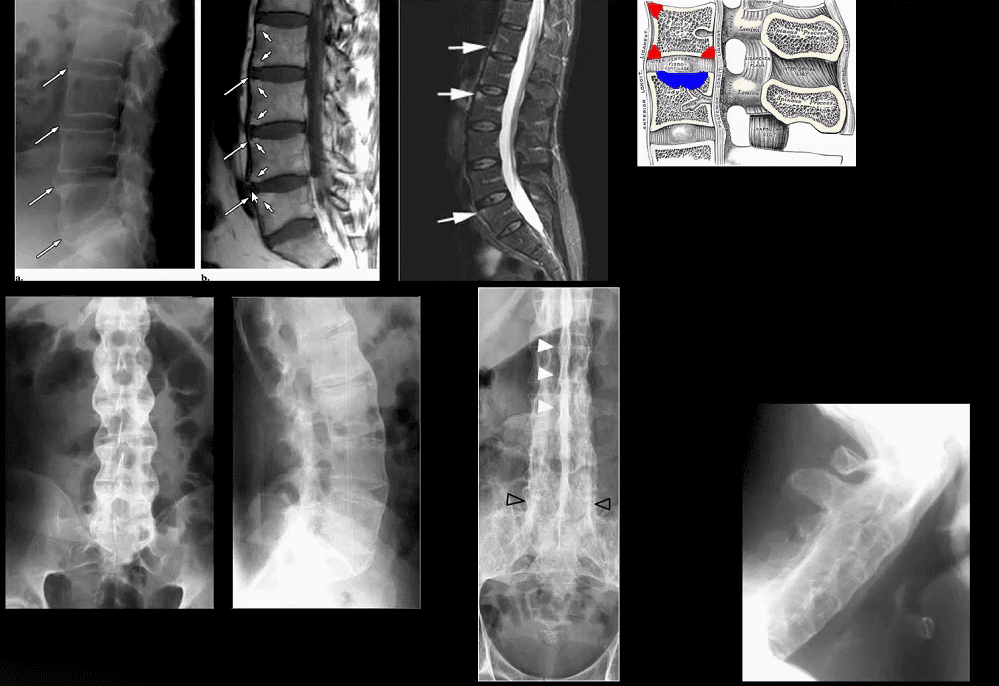 Key Imaging Dx In Spine
Marginal syndesmophytes and inflammation at the annulus-disc (above arrows) at the earliest dx; by MRI as marrow signal changes on T1 and fluid sensitive imaging (above top images). 
These represent enthesitis-inflammation that will ossify into bamboo spine.
Lig ossification: trolley track/dagger sign
AS in extraspinal joints: root joints, hips, and shoulders
Symphysis pubis
Less frequent in peripheral joints (hands/feet)
All seronegatives may present with heel pain d/t enthesitis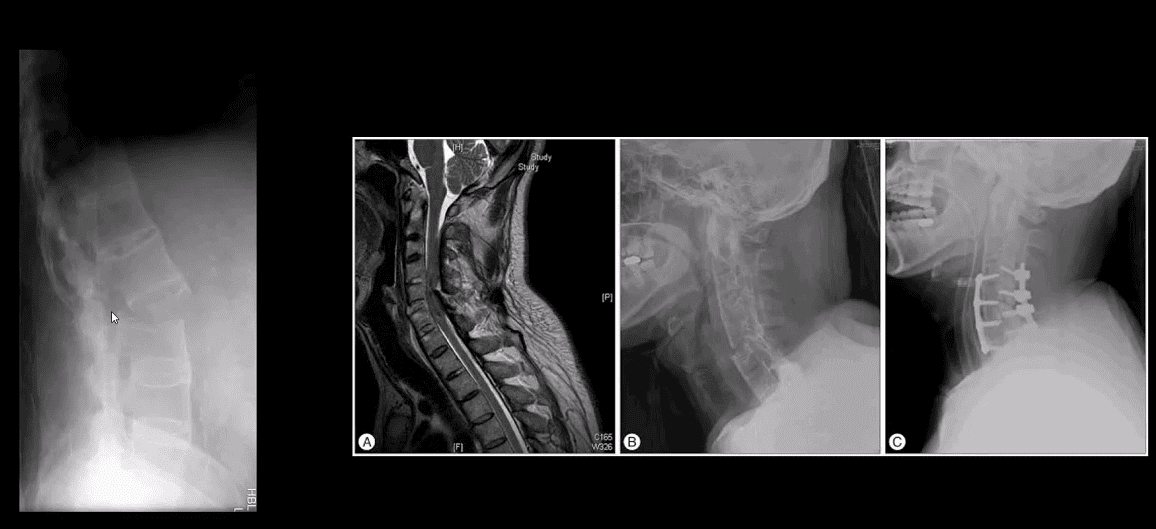 Complication: Above Carrot-stick/chaulk-stick Fx
PsA & ReA (formerly Reiter's) present with b/l sacroiliitis that virtually identical to AS
In the spine PsA & ReA DDx from AS by the formation of non-marginal syndesmophytes aka bulky paravertebral ossifications (indicate vertebral enthesitis)
For a clinical discussion of Spondyloarthropathies refer to:
Spinal Arthritis
Post Disclaimer
Professional Scope of Practice *
The information herein on "Spinal Arthritis Diagnostic Imaging Approach Part II" is not intended to replace a one-on-one relationship with a qualified health care professional, licensed physician, and is not medical advice. We encourage you to make your own health care decisions based on your research and partnership with a qualified health care professional.
Our information scope is limited to chiropractic, musculoskeletal, physical medicines, wellness, sensitive health issues, functional medicine articles, topics, and discussions. We provide and present clinical collaboration with specialists from a wide array of disciplines. Each specialist is governed by their professional scope of practice and their jurisdiction of licensure. We use functional health & wellness protocols to treat and support care for the injuries or disorders of the musculoskeletal system.
Our videos, posts, topics, subjects, and insights cover clinical matters, issues, and topics that relate to and support, directly or indirectly, our clinical scope of practice.*
Our office has made a reasonable attempt to provide supportive citations and has identified the relevant research study or studies supporting our posts. We provide copies of supporting research studies available to regulatory boards and the public upon request.
We understand that we cover matters that require an additional explanation of how it may assist in a particular care plan or treatment protocol; therefore, to further discuss the subject matter above, please feel free to ask Dr. Alex Jimenez or contact us at 915-850-0900.
We are here to help you and your family.
Blessings
Dr. Alex Jimenez DC, MSACP, CCST, IFMCP*, CIFM*, ATN*
email: coach@elpasofunctionalmedicine.com
Licensed in: Texas & New Mexico*
Dr. Alex Jimenez DC, MSACP, CIFM*, IFMCP*, ATN*, CCST
My Digital Business Card