Can non-surgical options be beneficial for many working individuals with low back pain than surgical therapeutic options?
Introduction
Many working individuals will experience pain in their lower backs due to their demanding workloads that are causing unwanted pressure load on the lumbar region of the spine. With the spine's main job to support the body's upper and lower quadrants, many individuals with demanding jobs are either constantly sitting down at their desks or carrying heavy objects to different locations. With low back pain being a normal problem for everyone at some point, many individuals find temporary solutions to relieve the pain, only to repeat the factors. To that point, this leads to chronic musculoskeletal disorders that can cause referred pain to the lower and upper extremities and can be pricey when going into treatment. However, there are numerous options for working individuals that are cost-effective and safe on their lower backs. Today's article examines how low back pain affects the working individual and how non-surgical treatment options vary with surgical possibilities when dealing with low back pain. Coincidentally, we communicate with certified medical providers who incorporate our patients' information to ease low back pain associated with musculoskeletal disorders. We also inform them that there are non-surgical options to reduce the effects of low back pain and restore their quality of life. We encourage our patients to ask amazing educational questions to our associated medical providers about their musculoskeletal symptoms correlating with low back pain. Dr. Alex Jimenez, D.C., incorporates this information as an academic service. Disclaimer
How Does Low Back Pain Affect The Working Individual?
Have you been dealing with constant radiating pain in your lower back, legs, or feet after a long workday? Do you feel pain when moving around, only to find relief when resting? Or do you and your loved ones feel muscle aches and strains when stretching in the morning? Many individuals, especially working individuals, deal with low back pain daily when dealing with these musculoskeletal issues. Low back pain is extremely common for working individuals as it can affect their job performance and be an economic burden when treated. Low back pain is a multifactorial problem that has an increased rate of affecting individuals and contributes to the growth of numerous health problems. Low back pain can cause many individuals to miss work due to the lack of clarity on the causes, treatments, and factors contributing to this musculoskeletal disorder. (Pai & Sundaram, 2004)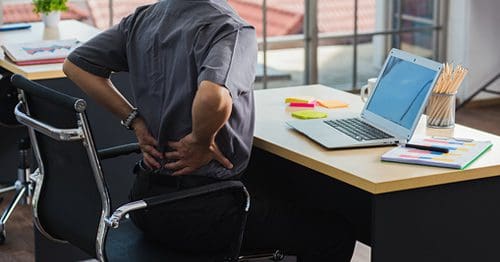 So, how would low back pain affect the working individual? Since many people have demanding jobs, it can cause the surrounding muscles, ligaments, and tissues in the lumbar region to be overworked, and the spinal discs degenerate over time. When there are unrelenting changes within the spine, it can be associated with affecting the lumbar structures of the spine to degenerate over time. This, in turn, causes the lumbar spine to go through biochemical changes that can generate pain-like symptoms in the lumbar region and cause structural changes to the spine, leading to lower back pain. (Benoist, 2003)
Additionally, there are many causes and factors that many working individuals will do that lead to low back pain. Normal factors like improper lifting, stepping wrong, or sitting down excessively can contribute to lower back pain. At the same time, traumatic factors like accidents, injuries, or playing sports can also lead to lower back pain. When musculoskeletal conditions like low back pain become an issue, it can become a major burden to health and social care systems for many individuals, with indirect costs that can be pricey when treated. (Woolf & Pfleger, 2003)
---
Chiropractic Care After Accidents & Injuries-Video
Now, with low back pain being a nuisance to many, individuals will seek out treatment to reduce the pain they are experiencing in their lower back and mitigate the residual symptoms they have been dealing with in the other body extremities. Sadly, low back pain, especially in its chronic state, can become a diagnosis of convenience for many people, affecting their socioeconomic, work, and psychosocial lifestyles. (Andersson, 1999) Many individuals will seek out numerous treatment opportunities to reduce low back pain. Surgical treatments for low back pain are great for individuals when regular home therapies don't work but can be pricey. Many will opt for non-surgical therapies when it comes to finding cost-effective treatments for treating low back pain. Non-surgical treatments, including chiropractic care and spinal decompression, are excellent for treating low back pain. Pain specialists like chiropractors and massage therapists utilize various techniques (mechanical and manual) to realign the body and stretch out the affected muscles that are affected by low back pain. The video explains how these treatments can reduce low back pain associated with accidents and injuries.
---
Non-Surgical Options For Low Back Pain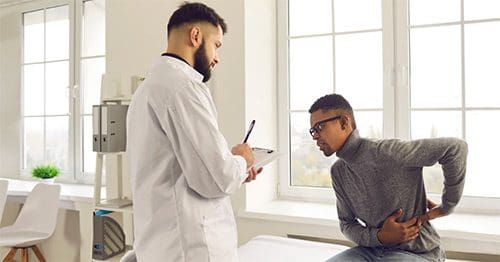 As stated earlier, non-surgical treatments can help reduce low back pain and can be combined with other therapies to manage the pain. Non-surgical treatments can be personalized to the person's pain and can provide pain relief to the body. When individuals undergo a non-surgical treatment, pain specialists incorporate mechanical and manual manipulation to restore joint and spinal motion to the lower back. (Park et al., 2023) Additionally, individuals with low back pain include an exercise regime to effectively increase the person's range of motion while increasing the person's chances to return to normal daily activities and work. (van Tulder et al., 2000)
Non-Surgical Options Vs. Surgical Options
There is a vast difference between non-surgical and surgical options for treating low back pain. Anyone can personalized non-surgical options to provide more effective improvement in reducing pain, restoring lumbar range of motion, and improving back muscle endurance within a few sessions. (Amjad et al., 2022) Now, when home remedies and non-surgical options do not reduce pain, surgical options are only effective for low back pain. This is due to the psychological component that causes individuals to have persistent back pain that is not causing the relief that the person needs. (Corp et al., 2021) But both options are excellent when reducing low back pain as many doctors tell their patients to be more mindful about how they are using the muscles in their bodies and make small changes to reduce the chances of the pain from returning. When many working individuals start to think more about their pain and how to minimize its chances of returning, they can continue to live life to the fullest pain-free.
---
References
Amjad, F., Mohseni-Bandpei, M. A., Gilani, S. A., Ahmad, A., & Hanif, A. (2022). Effects of non-surgical decompression therapy in addition to routine physical therapy on pain, range of motion, endurance, functional disability and quality of life versus routine physical therapy alone in patients with lumbar radiculopathy; a randomized controlled trial. BMC Musculoskelet Disord, 23(1), 255. doi.org/10.1186/s12891-022-05196-x
Andersson, G. B. (1999). Epidemiological features of chronic low-back pain. Lancet, 354(9178), 581-585. doi.org/10.1016/S0140-6736(99)01312-4
Benoist, M. (2003). Natural history of the aging spine. Eur Spine J, 12 Suppl 2(Suppl 2), S86-89. doi.org/10.1007/s00586-003-0593-0
Corp, N., Mansell, G., Stynes, S., Wynne-Jones, G., Morso, L., Hill, J. C., & van der Windt, D. A. (2021). Evidence-based treatment recommendations for neck and low back pain across Europe: A systematic review of guidelines. Eur J Pain, 25(2), 275-295. doi.org/10.1002/ejp.1679
Pai, S., & Sundaram, L. J. (2004). Low back pain: an economic assessment in the United States. Orthop Clin North Am, 35(1), 1-5. doi.org/10.1016/S0030-5898(03)00101-9
Park, S. C., Kang, M. S., Yang, J. H., & Kim, T. H. (2023). Assessment and nonsurgical management of low back pain: a narrative review. Korean J Intern Med, 38(1), 16-26. doi.org/10.3904/kjim.2022.250
van Tulder, M., Malmivaara, A., Esmail, R., & Koes, B. (2000). Exercise therapy for low back pain: a systematic review within the framework of the cochrane collaboration back review group. Spine (Phila Pa 1976), 25(21), 2784-2796. doi.org/10.1097/00007632-200011010-00011
Woolf, A. D., & Pfleger, B. (2003). Burden of major musculoskeletal conditions. Bull World Health Organ, 81(9), 646-656. www.ncbi.nlm.nih.gov/pubmed/14710506
www.ncbi.nlm.nih.gov/pmc/articles/PMC2572542/pdf/14710506.pdf
Disclaimer
Post Disclaimer
Professional Scope of Practice *
The information herein on "A Focus On Non-Surgical Therapeutic Options For Low Back Pain" is not intended to replace a one-on-one relationship with a qualified health care professional or licensed physician and is not medical advice. We encourage you to make healthcare decisions based on your research and partnership with a qualified healthcare professional.
Blog Information & Scope Discussions
Our information scope is limited to Chiropractic, musculoskeletal, physical medicines, wellness, contributing etiological viscerosomatic disturbances within clinical presentations, associated somatovisceral reflex clinical dynamics, subluxation complexes, sensitive health issues, and/or functional medicine articles, topics, and discussions.
We provide and present clinical collaboration with specialists from various disciplines. Each specialist is governed by their professional scope of practice and their jurisdiction of licensure. We use functional health & wellness protocols to treat and support care for the injuries or disorders of the musculoskeletal system.
Our videos, posts, topics, subjects, and insights cover clinical matters, issues, and topics that relate to and directly or indirectly support our clinical scope of practice.*
Our office has reasonably attempted to provide supportive citations and has identified the relevant research study or studies supporting our posts. We provide copies of supporting research studies available to regulatory boards and the public upon request.
We understand that we cover matters that require an additional explanation of how it may assist in a particular care plan or treatment protocol; therefore, to further discuss the subject matter above, please feel free to ask Dr. Alex Jimenez, DC, or contact us at 915-850-0900.
We are here to help you and your family.
Blessings
Dr. Alex Jimenez DC, MSACP, RN*, CCST, IFMCP*, CIFM*, ATN*
email: coach@elpasofunctionalmedicine.com
Licensed as a Doctor of Chiropractic (DC) in Texas & New Mexico*
Texas DC License # TX5807, New Mexico DC License # NM-DC2182
Licensed as a Registered Nurse (RN*) in Florida
Florida License RN License # RN9617241 (Control No. 3558029)
Presently Matriculated: ICHS: MSN* FNP (Family Nurse Practitioner Program)
Dr. Alex Jimenez DC, MSACP, RN* CIFM*, IFMCP*, ATN*, CCST
My Digital Business Card