Meniscal Tears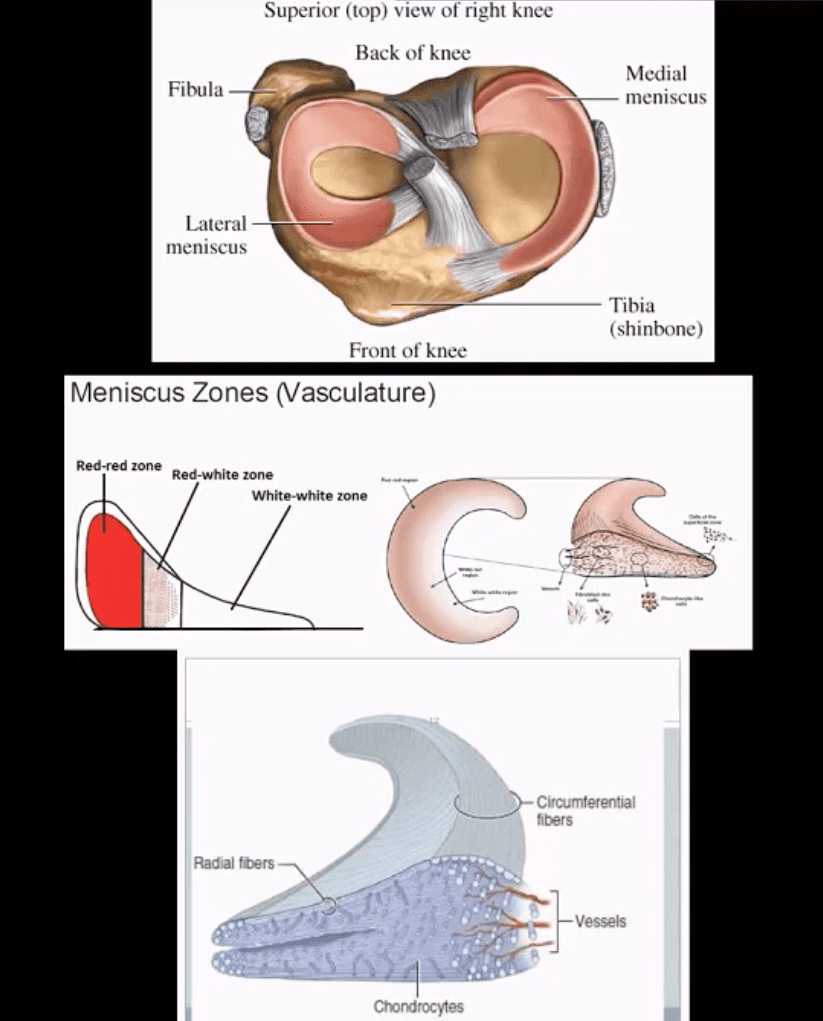 Acute or chronic. Imaged with MRI (95% sensitivity & 81% specificity)
Menisci are formed by a composition of radial and circumferential collagen fibers (97% type 1) mixed with cartilage, proteoglycans etc. 65-75% H2O
Aging can lead to meniscal attrition
Acute tears are d/t rotational and compressive forces, ACL deficient knees show greater chances of meniscal tears
Posterior horn of medial meniscus is m/c torn except in acute ACL tears when lateral meniscus is m/c torn
Meniscus is well vascularized in children. In adults 3-zones exist: inner, middle and outer (above bottom image)
Injury of the inner zone has no chance of healing
Injury of the outer zone (25% in total) has some healing/repair
Clinical Presentation
Pain, locking, swelling
Most sensitive physical sign: pain on palpation at the joint line
Tests: McMurry, Thessaly, Apply compression in prone
Management: conservative vs. operative depends on lacation, stability, patient's age and DJD and the type of tear
Partial meniscectomy is performed. 80% good functions on follow up. Less favorable if >40-y.o and DJD
Total meniscectomy is not performed and only viewed historically. 70% OA 3-years after surgery 100% OA after 20 years post surgery.
Axial MR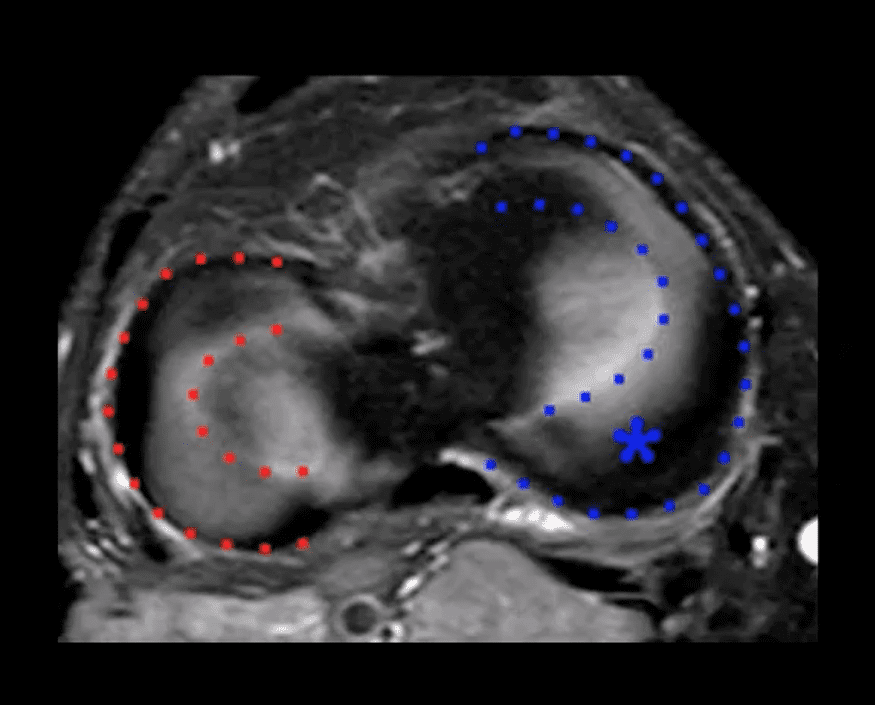 Appearance the medial (blue) and the lateral meniscus (red)
Menisci Play Significant Role

Types Location & Stability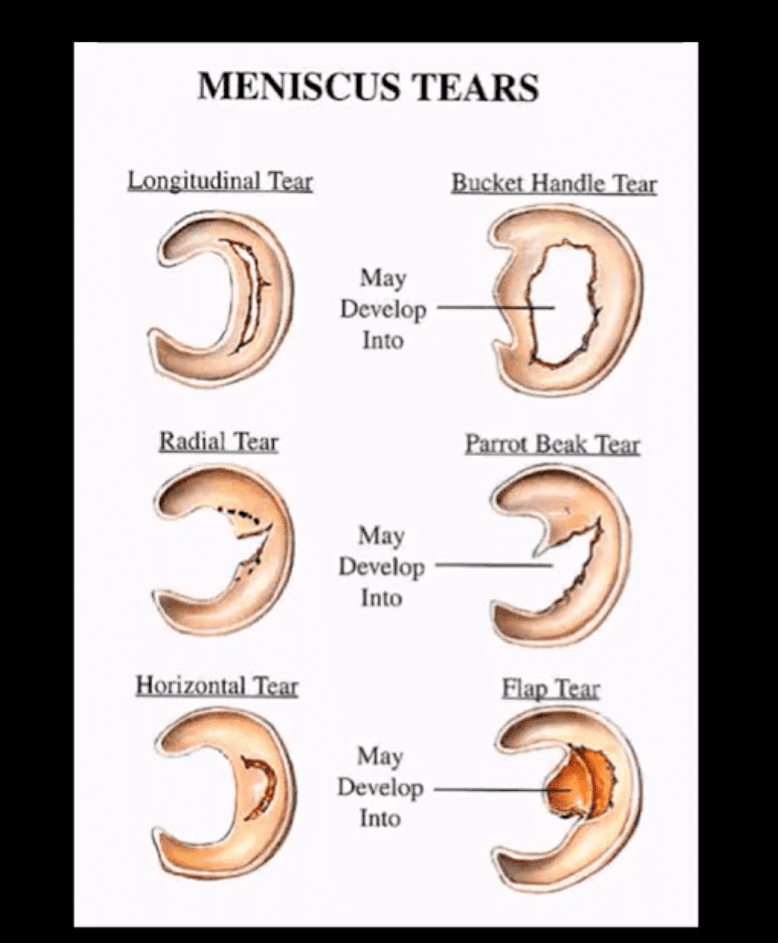 Types, location and stability of tears are v. important during MRI Dx
Vertical/longitudinal tears especially occur in acute ACL tears. Some longitudinal tears found at the periphery or "red zone" may heal
Bucket handle tear: longitudinal tear in the inner edge that is deep and vertical extending through long axis and may displace into notch
Oblique/flap/parrot-beak are complex tears
Radial tear at 90-degree to plateau
Axial T2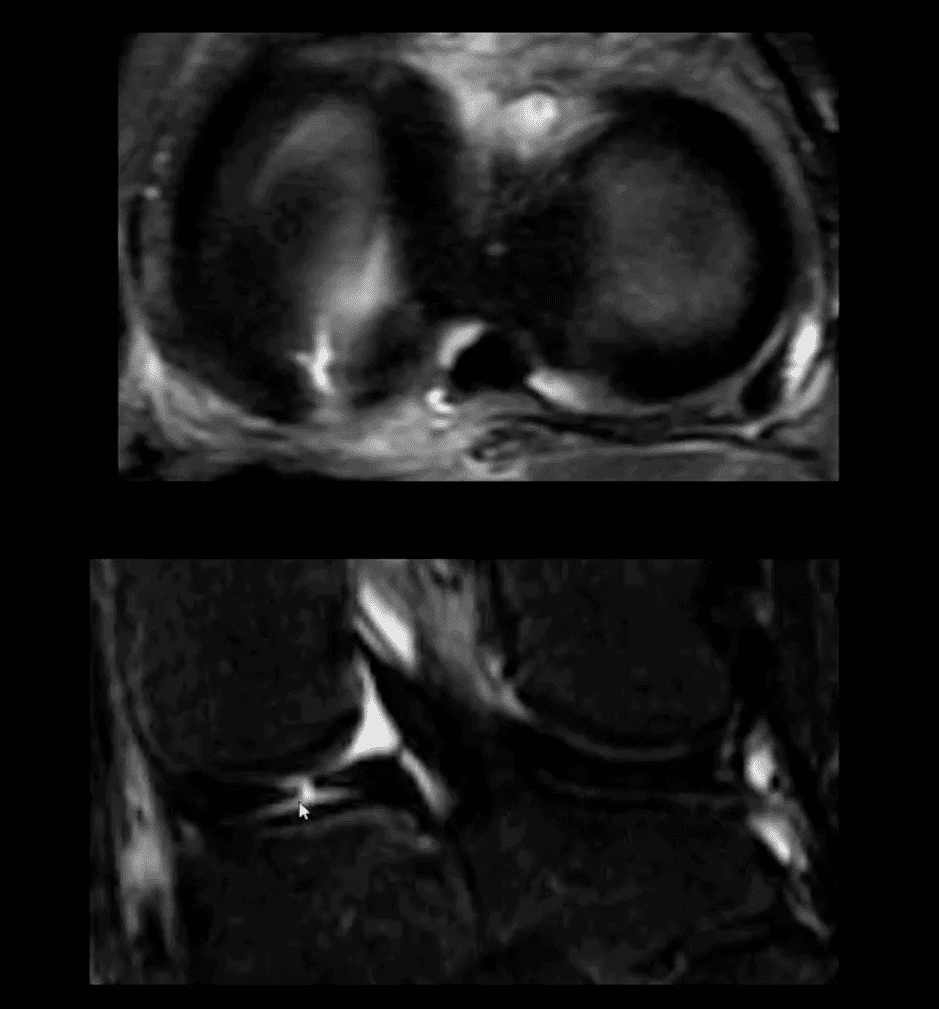 Axial T2 WI fat-sat and coronal STIR slices of the posterior horn of the medial meniscus.
Note a radial tear of the posterior horn of the medial meniscus near meniscal root. This is potentially an unstable lesion requiring operative care
The meniscus in this case is unable to provide a "hoop-stress mechanism"
MRI Slices Coronal & Sagittal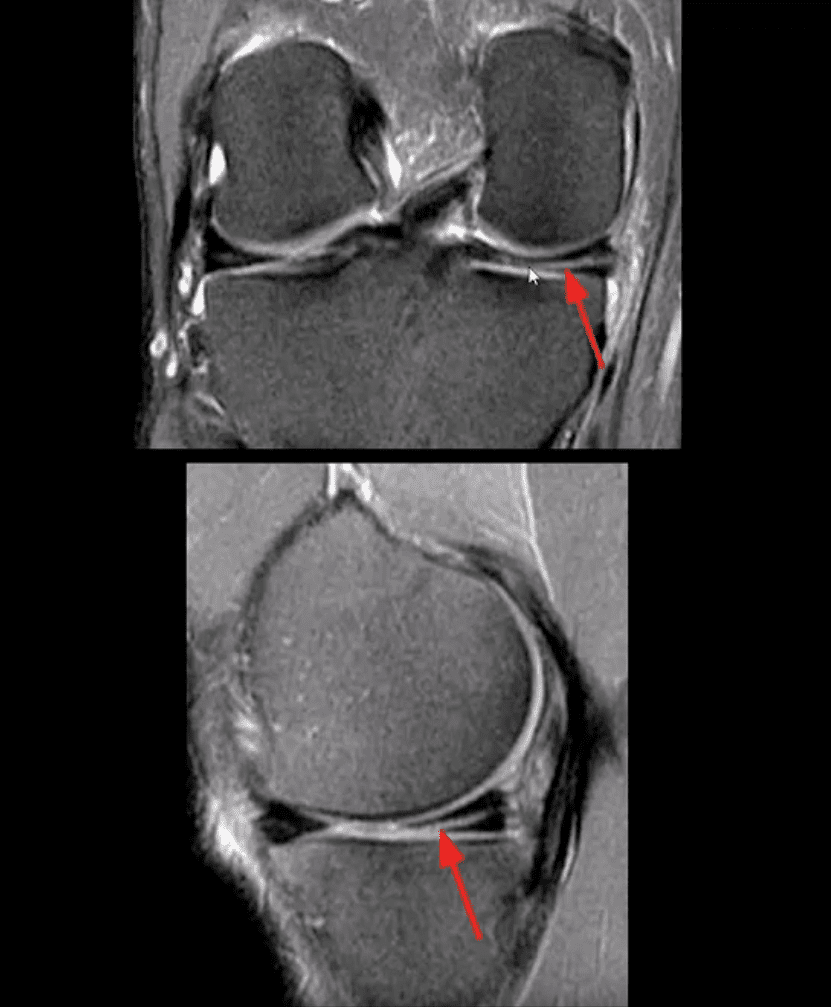 Fat-sat coronal and sagittal proton density MRI slices revealing horizontal (cleavage) tear that is more typical in the aged meniscus
In some cases, when this tear does not contain a radial component it may partially heal obviating the need for operative care
T2 w GRE Sagittal MRI Slice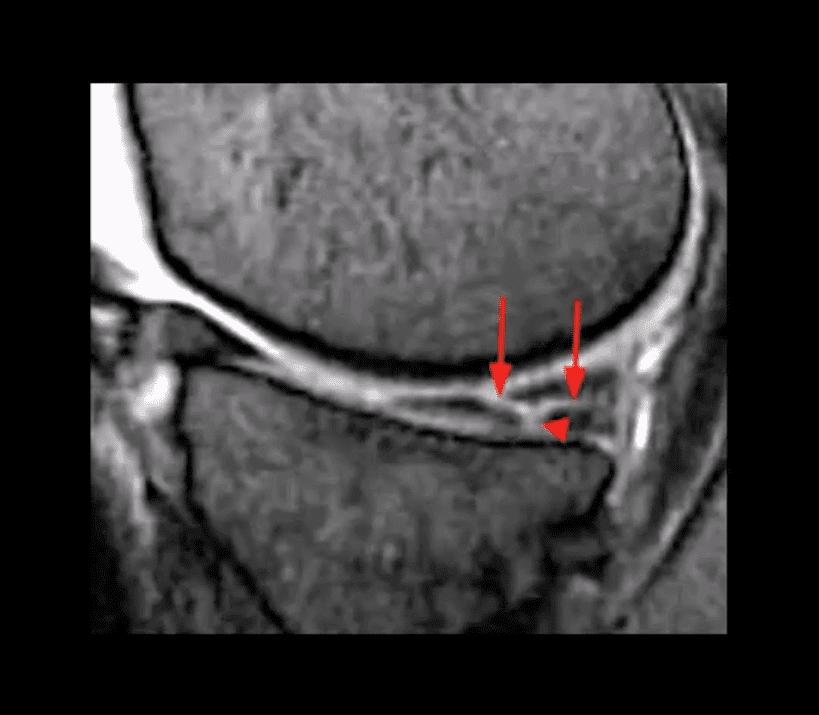 Complex tear with a horizontal oblique and radial component.
This type of tear is very unstable and in most cases may need operative care
Bucket Handle Tear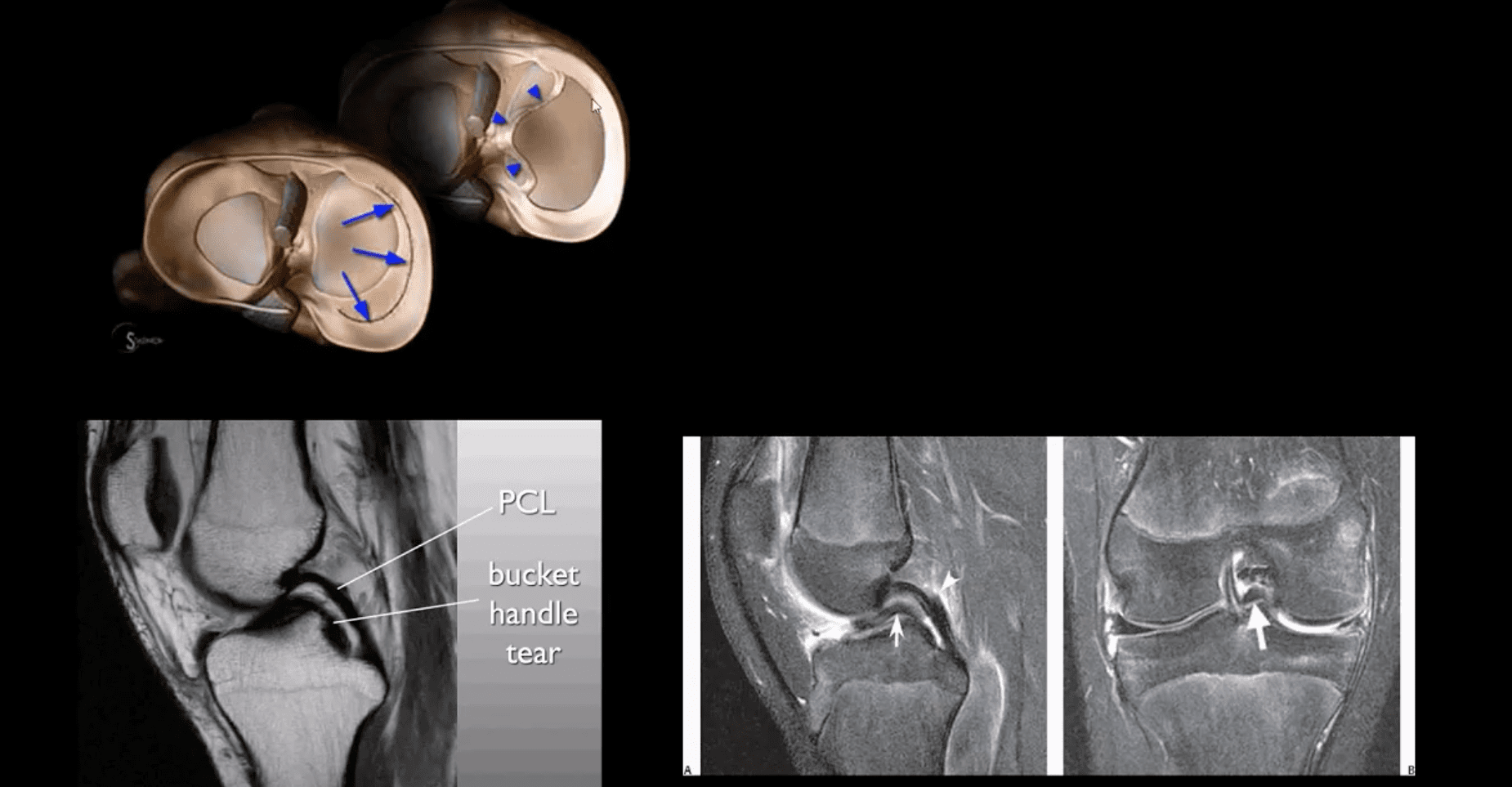 Bucket handle tear are m/c in the medial meniscus esp. with acute ACL and MCL tear
MRI signs; double PCL sign on sagittal slices
Absent "bow-tie" sign and others
Most cases require operative care
DDx From Meniscal Degeneration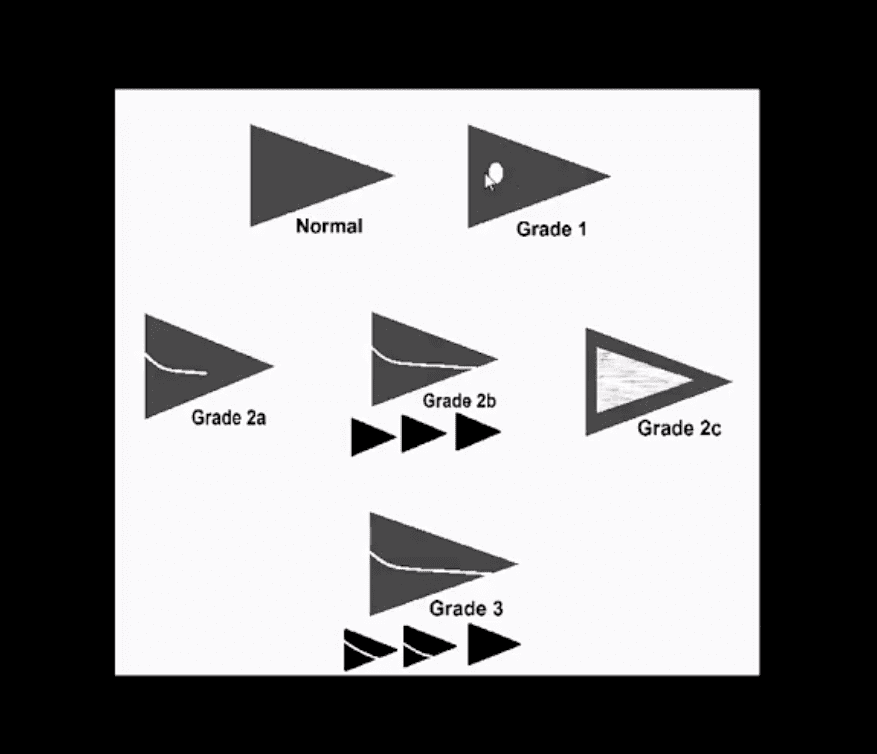 Occaisionally meniscal tears need to be DDx from meniscal degeneration which may also appear bright (high signal) on fluid sensitive MRI
The simplest rule is that if there is a true meniscal tear aka Grade 3 lesion it always reaches/extends to the tibial plateau surface
The Role of MSK Ultrasound (US) in Knee Examination
MSK US of the knee permits high resolution and dynamic imaging of primarily superficial anatomy (tendons, bursae, capsular ligaments)
MSK US cannot adequately evaluate cruciate ligaments and the menisci in their entirety
Thus MR imaging remains modality of choice
Potential Pathologies Successfully Evaluated by MSK US
Patellar tendionosis/patellar tendon rapture
Quadriceps tendon tear
Prepatellar bursitis
Infrapatellar bursitis
Pes Anserine bursitis
Popliteal cyst (Baker cyst)
Inflammation/joint effusion with synovial thickening and hyperemia can be imaged with US (e.g. RA) especially with the addition of color power doppler
Patient Presented With Atraumatic Knee Pain & Swelling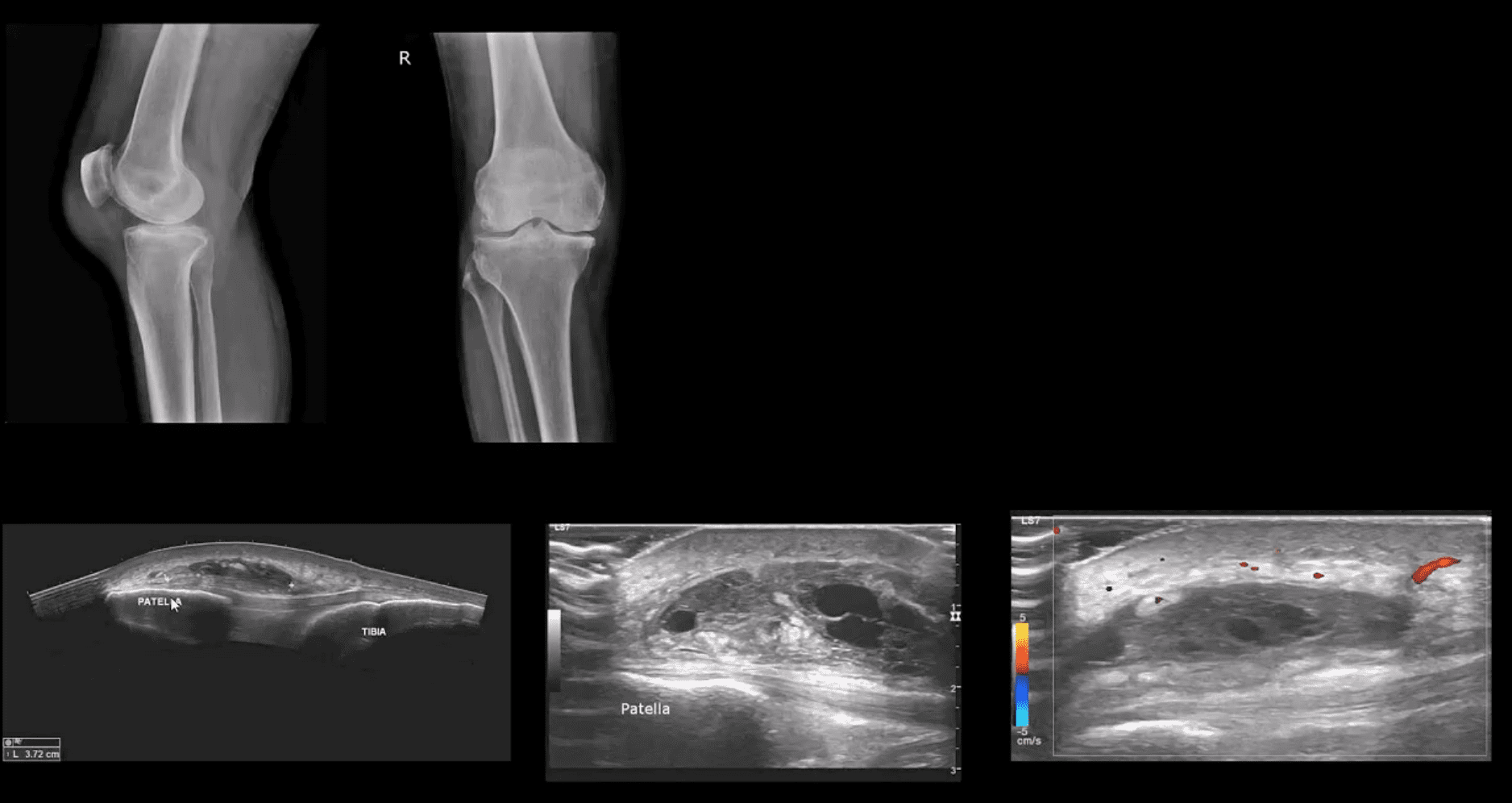 Radiography revealed large soft tissue density within superficial pre-patella region along with mild-to-moderate OA
MSK US demonstraded large septated heterogeneous fluid collection with mild positive Doppler activity on the periphery indicating inflammation d/t Dx of Superficial pre-patella bursitis
Long Axis US Images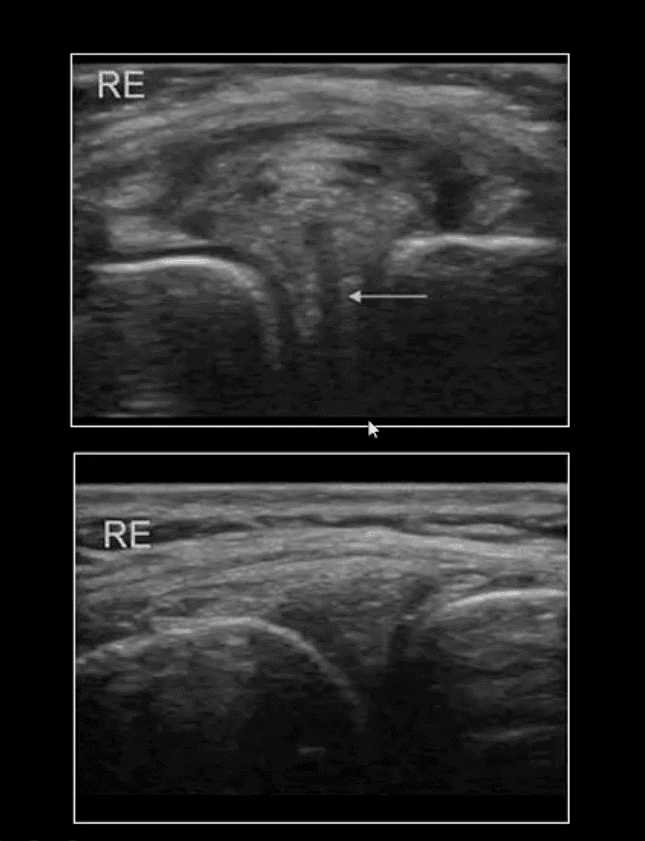 Note normal laterral meniscus and fibers of LCL (above bottom image) compared to
Horizontal degenerative cleavage tear along with protrusion of lateral meniscus and LCL bulging (above top image)
Major limitation: unable to visualize the entire meniscus and the ACL/PCL
MRI referral is suggested
Rupture of Distal Tendon of Quadriceps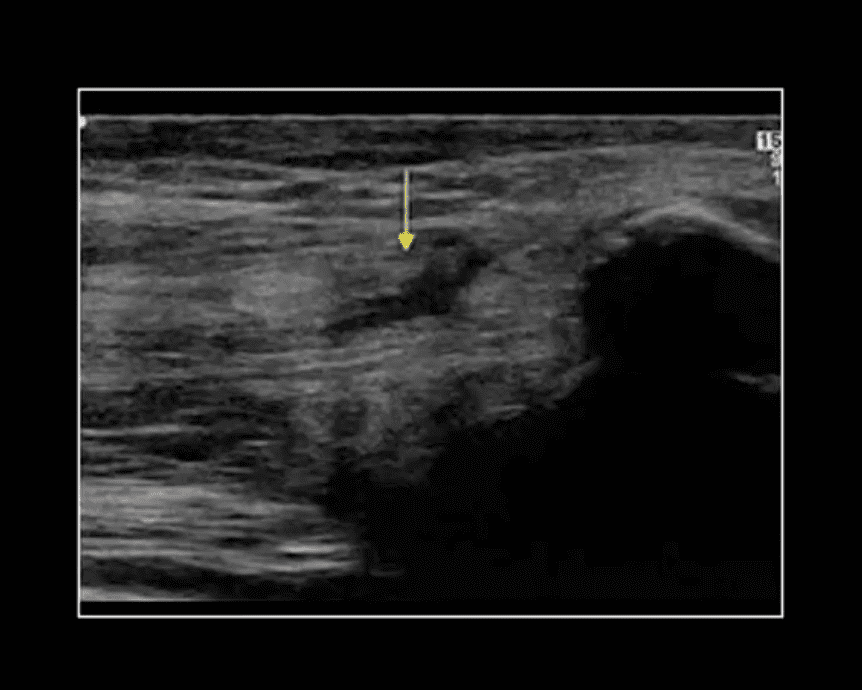 Note rupture of distal tendon of the Quadriceps muscle presented as fiber separation and fluid (hypo to anechoic) fluid collection within the substance of the tendon
Advantages of MSK US over MRI to evaluate superficial structures:
Dynamic imaging
Availability
Cost-effective
Patient's preparation
Disadvantages: limited depth of structures, inability to evaluated bone and cartilage etc.
Osteochondral Knee Injuries (OI)
osteochondral knee injuries can occur in children 10-15 y.o presented as Osteochondritis Dissecance (OCD) and in mature skeleton m/c following hyperextension and rotation trauma particularly in ACL tear.
OCD-typically develops from repeated forces in immature bone and affects m/c postero-lateral portion of the medial femoral condyle.
OI in mature bone occurs m/c during ACL tears particularly affecting so-called terminal sulcus of the lateral femoral condyle at the junction of the weight-bearing portion opposed to tibial plateau an the part articulating with the patella
Osteochondral injuries may potentially damage the articular cartilage causing secondary OA. Thus need to be evaluated surgically
Imaging plays an important role and should begin with radiography often followed by MR imaging and orthopedic referral.
OCD Knee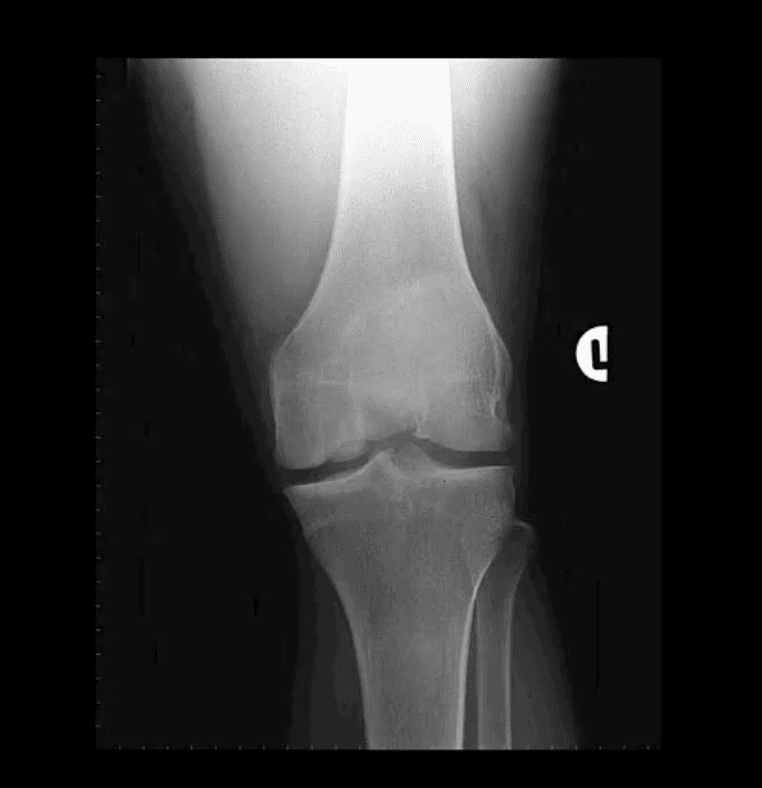 95% associated with some trauma. Other etiology: ischemic bone necrosis especially in adults
Other common location for osteochondral injuries: elbow (capitellum), talus
1st step: radiography may detect osteochondral fragment potentially attached or detached
Location: posterior-lateral aspect of medial femoral condyle. Tunnel (intercondylar notch) view is crucial
MRI: modality of choice >90% specificity and sensitivity. Crucial for further management. T1-low signal demarcating line with T2 high signal demarcating line that signifies detachment and unlikely healing. Refer to orthopedic surgeon
Management: stable lesion esp. in younger children>off weight-bearing-heals in 50-75%
Unstable lesion and older child or impending physeal closure>operative fixation.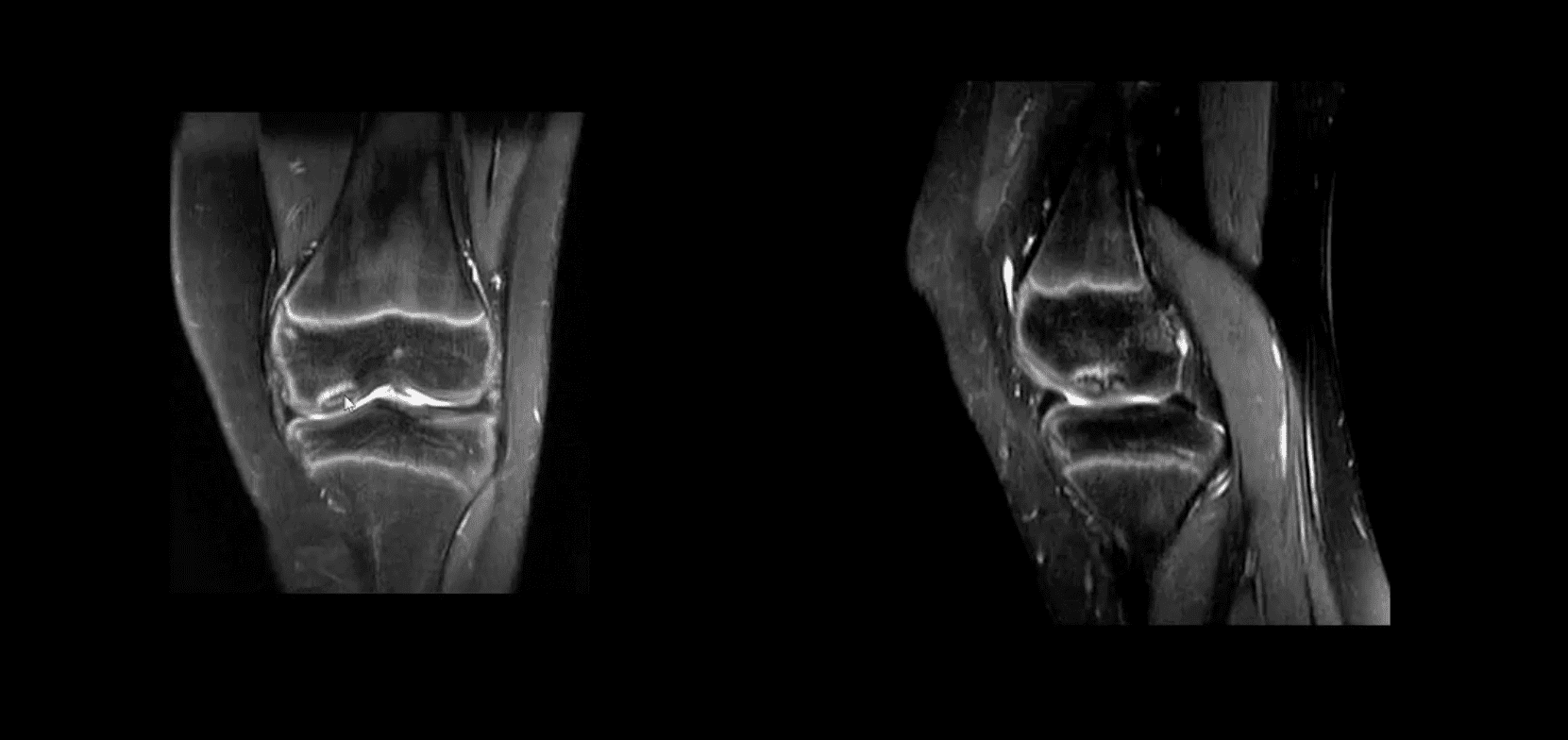 Knee Trauma
Post Disclaimer
Professional Scope of Practice *
The information herein on "Knee Pain & Acute Trauma Diagnosis Imaging Part II | El Paso, TX" is not intended to replace a one-on-one relationship with a qualified health care professional, licensed physician, and is not medical advice. We encourage you to make your own health care decisions based on your research and partnership with a qualified health care professional.
Our information scope is limited to chiropractic, musculoskeletal, physical medicines, wellness, sensitive health issues, functional medicine articles, topics, and discussions. We provide and present clinical collaboration with specialists from a wide array of disciplines. Each specialist is governed by their professional scope of practice and their jurisdiction of licensure. We use functional health & wellness protocols to treat and support care for the injuries or disorders of the musculoskeletal system.
Our videos, posts, topics, subjects, and insights cover clinical matters, issues, and topics that relate to and support, directly or indirectly, our clinical scope of practice.*
Our office has made a reasonable attempt to provide supportive citations and has identified the relevant research study or studies supporting our posts. We provide copies of supporting research studies available to regulatory boards and the public upon request.
We understand that we cover matters that require an additional explanation of how it may assist in a particular care plan or treatment protocol; therefore, to further discuss the subject matter above, please feel free to ask Dr. Alex Jimenez or contact us at 915-850-0900.
We are here to help you and your family.
Blessings
Dr. Alex Jimenez DC, MSACP, CCST, IFMCP*, CIFM*, ATN*
email: coach@elpasofunctionalmedicine.com
Licensed in: Texas & New Mexico*