Sagittal Fluid Sensitivity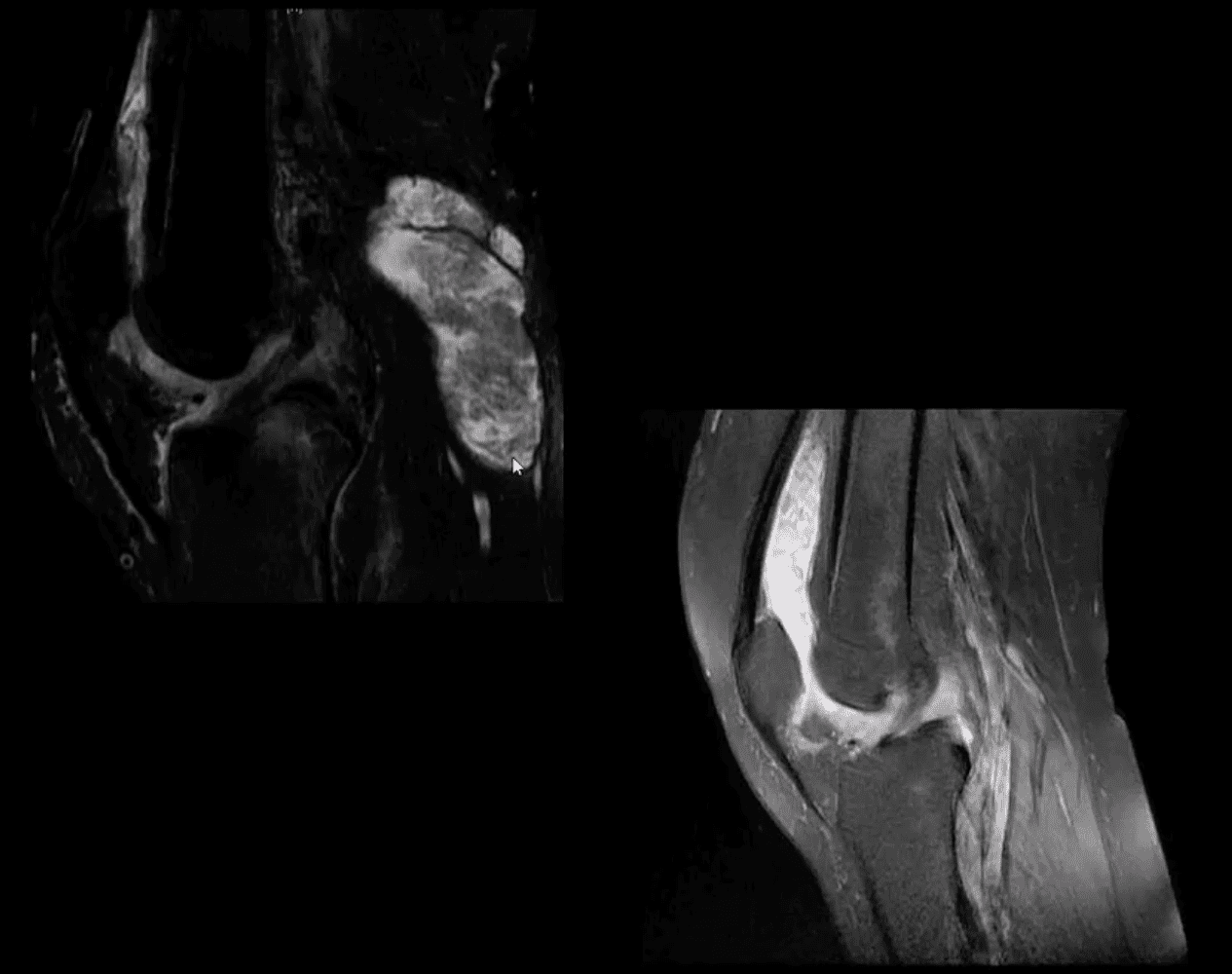 Sagittal Fluid Sensitive MR slice showing large synovial popliteal (Baker's) cyst (above top image) and large synovial effusion (above bottom image)
Note multiple patchy dark signal areas on both images, representing fibrinoid inflammatory depostits aka "rice bodies" a characteristic MRI feature of RA
Management Rheumatological Referral & DMARM
Conservative management followed by operative care in complicated cases of tendon ruptures and joints dislocations
Supplemental reading:
Diagnosis and Management of Rheumatoid Arthritis – AAFP
Septic Arthritis (SA)
Septic arthritis – d/t bacterial or fungal contamination of the joint. SA may causes rapid joint destruction and requires prompt Dx and antibiotic administration
Joints affected: large joints with rich blood supply (knee 50%>hips>shoulders).
Routs of Infection:
1) Hematogenous is m/c
2) Spread from an adjacent site
3) Direct implantation (e.g. trauma, iatrogenically)
Patients at risk: children, diabetics, immunocompromised, pre-existing joint damage/inflammation e.g. RA etc.
I.V. drug users are particularly at risk and in addition may contaminate atypical joints "the S joints" SIJ, SCJ, Symphysis pubis, ACJ etc.
Clinically: may vary and depends on host immune response and bacterial virulence. May present with rapid onset or exacerbation of pre-existing joint pain, swelling, limitation of ROM. General signs of malaise, fever, fatigue and elevated ESR, CRP, Leucocytosis may be present.
N.B. Diabetics and immunocompromised may present with fewer manifistations and lack of fever d/t declining immune response
Dx: clinical, radiological and laboratory. Arthrocentesis may be necessary for culture, cell count and purulent synovial examination
Management: I.V. antibiotics
Imaging Dx: begins with radiography but in the early stage most likely will be unremarkable. MRI can be sensitive and help with early identification of joint effusion, bone edema etc. US may be helpful in the superficial joints and in children. US helps with needle guidance. Bone scintigraphy may be used occaisonally if MRI is contraindicated
Routes of Joint Contamination
1. Hematogenous (M/C)
2. Spread from the adjacent site
3. Direct inoculation
M/C organism-Staph aureus
N.B Gonococcal infection may be a top differential in some cases
IV drug users: pseudomonas, candida
Sickle cell: Salmonella
Animal (cats/dogs) bites: Pasteurella
Occaisonally fungal contamination may occur
Radiography
Initially non-specific ST/joint effusion, obscuration/distortion of fat planes. Because it takes 30% of compact and 50-75% trabecula bone to be destroyed before seen on x-rays, radiography is insensitive to some of the early changes. MR imaging is the preferred modality
If MRI is not available or contraindicated. Bone scintigraphy with Tc-99 MDT can help
In children US preferred to avoid ionizing radiation. In children US can be more sensitive than in adults due to lack of bone maturation
Radiographic Dx
Early findings are unrewarding. Early features may include: joint widening d/t effusion. Soft tissue swelling and obscuration/displacement of fat planes
1-2 weeks: periarticular and adjacent osseous changes manifesting as patchy demineralization, moth-eaten, permeating bone destruction, loss and indistinctness of the epiphyseal "white cortical line" with increase in soft tissue swelling. MRI may be helpful with early Dx.
Late features: complete joint destruction and ankyloses
N.B. Septic arthritis may progress rapidly within days and requires early I.V. antibiotic to prevent major joint destruction
T1 & T2 Knee MRI
T1 (above left) and T2 fat-sat sagittal knee MRI slices reveal loss of normal marrow signal on T1 and increase on T2 due to septic edema. Bone sequestrum d/t osteomyelitis progressing into septic arthritis is noted. Marked joint effusion with adjacent soft tissue edema are seen. Dx: OSM and septic arthritis
Imaging may help the Dx of septic joint. However, the final Dx is based on Hx, physical examination, blood tests and most importantly synovial aspiration (arthrosentisis)
Synovial fluid should be sent for Gram staining, culture, glucose testing, leukocyte count, and differential determination
ESR/CRP may be elevated
Synovial fluid: WBC can be 50,000-60,000/ul, with 80% neutrophils with depleted glucose levels Gram stain: in 75% gram-positive cocci. Gram staining is less sensitive in gonococcal infection with only 25% of cultures +
In 9% of cases, blood cultures are the only source of pathogen identification and should be obtained before antibiotic treatment
Articles: www.aafp.org/afp/2011/0915/p653.html  
Crystal-Induced Knee Arthritis
Crystalline arthritis: a group of arthropathies resulting from crystal deposition in and around the joint.
2-m/c: Monosodium urate crystals (MSU)  and Calcium Pyrophosphate Dehydrate crystals (CPPD) arthropathy 
Gout: MSU deposition in and around joints and soft tissues. Elevated levels of seurm uric acid (UA) (>7mg/dL) causd by overproduction or under-excretion of uric acid
Once UA reached/exceeded 7mg/dL it will deposit in the peripheral tissues. Primary gout: disturbed metabolism of nucleic acids and purines breakdown. Secondary gout: increased cell turnover: Psoriasis, leukemia, multiple myeloma, hemolysis, chemotherapy etc.
Gout presents with 5-characteristic stages:
1)asymptomatic hyperuricemia (years/decades)
acute attacks of gouty arthritis (waxes and wanes and lasts for several years)
Interval phase between attacks
Chronic tophacious gout
Gouty nephropathy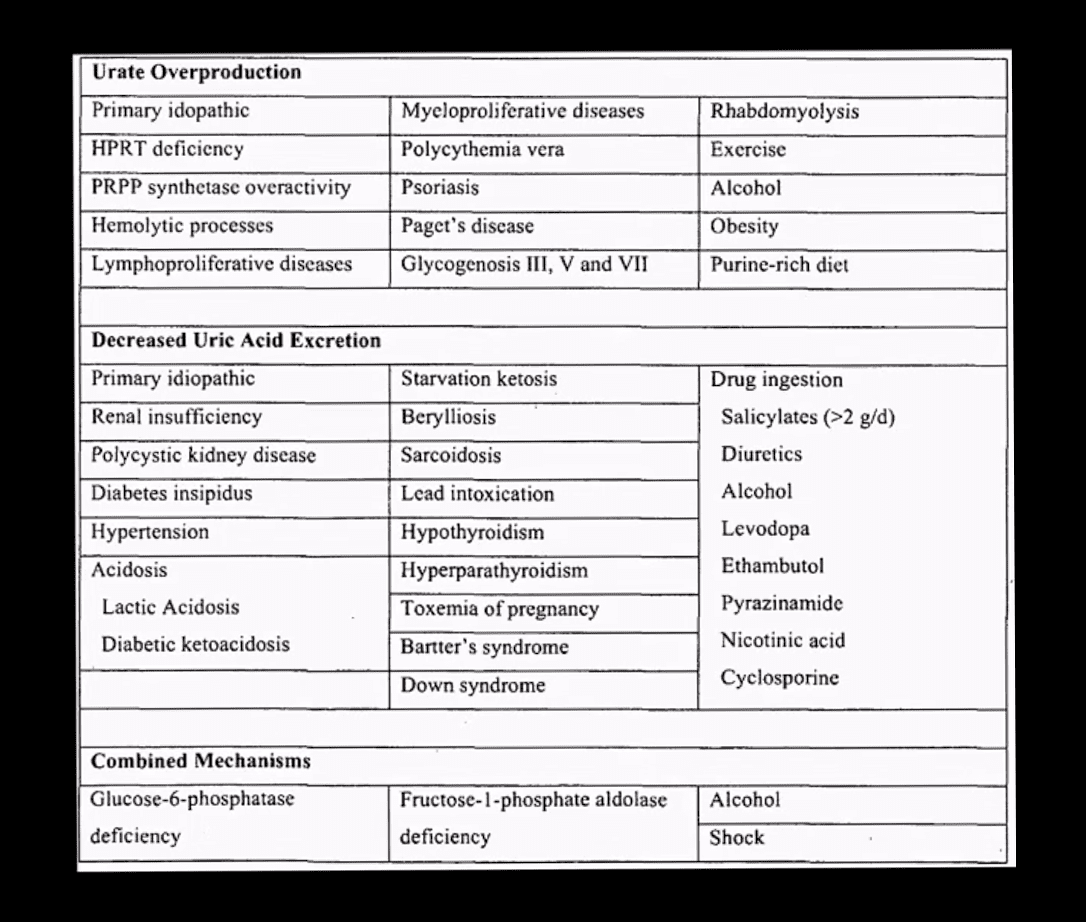 Clinical Presentation
Depends  on stages
Acute attacks: acute joint pain "first and the worst" even painful to light touch
DDx: septic joint (both may co-exist) bursitis etc.
Gouty arthritis typically presents as monoarthropathy
Chronic tophacious stage: deposits in joints, ear pinna, ocular structures and other regions. Nephrolithiasis etc. Men>women. Obesity, diet, and age >50-60.
Radiography: early attacks are unremarkable and may present as non-specific joint effusion
Chronic tophacious gout radiography: punched out peri-articular, para-aticular and/or intraosseous erosions with overhanging edges. Characteristic rim of sclerosis and internal calcification, soft tissue tophi. Target sites: lower extremity m/c
Rx: allopurinol, colchicin (esp. preventing acute episodes and maintenance)
Synovial Aspiration
Synovial aspiration with polarized microscopy reveal negatively birefringent needle-shaped MSU crystals with large inflammatory PMN presence. DDx: positively birefringent rhomboid-shaped CPPD crystals (above bottom right) seen in Pseudogout and CPPD
Large S.T.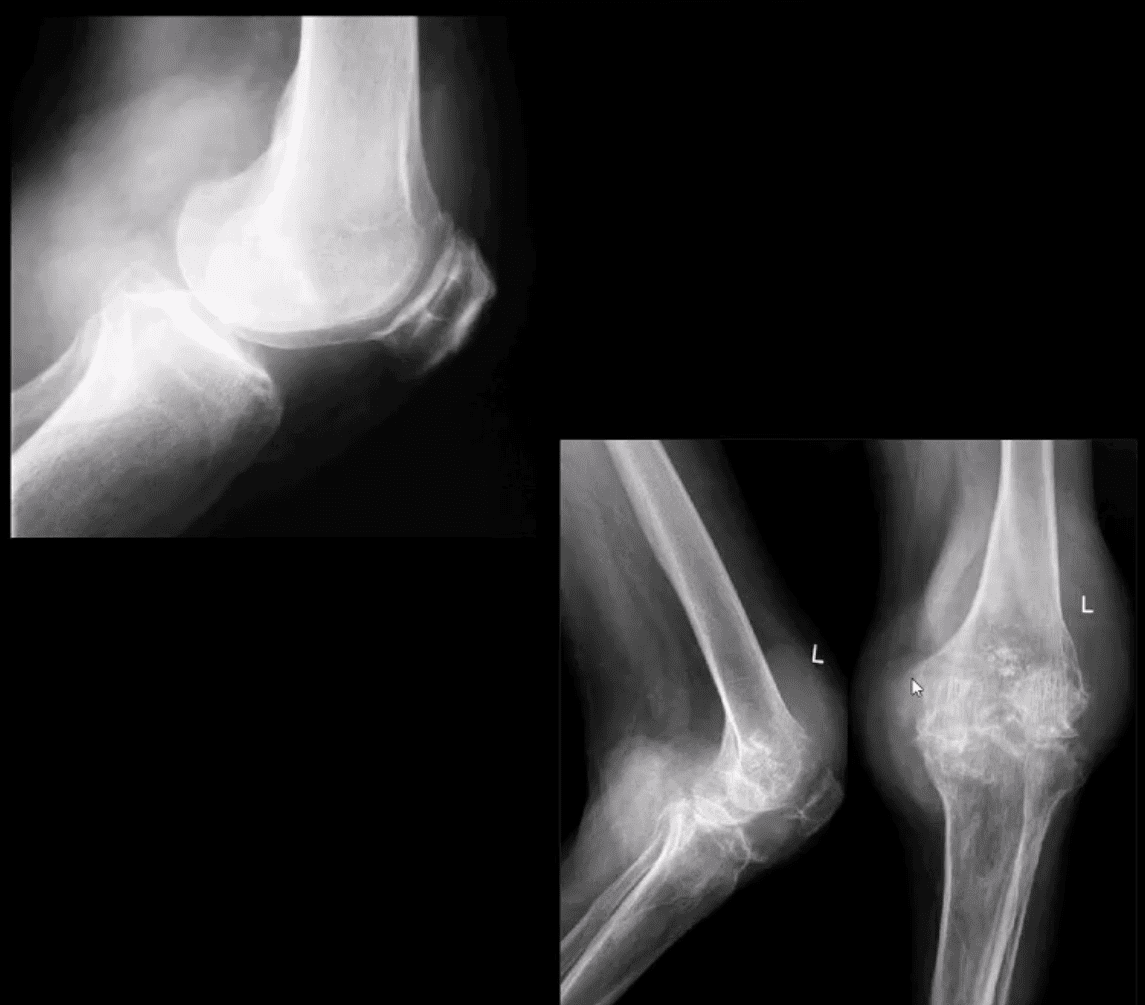 Density and joint effusion puched out osseous erosion with overhanging margins, overall perservation of bone density, internal calcifications Dx: chronic tophacious gout
MRI Gout Features
Erosions with overhanging margins, low signal on T1 and high on T2 and fat suppressed images. Peripheral contrast enhancement of tophacious deposits d/t granulation tissue
Dx: final Dx; synovial aspiration and polarized microscopy
Additional Articles
Knee Arthritis
Post Disclaimer
Professional Scope of Practice *
The information herein on "Knee Arthritis: Diagnostic Imaging Approaches II | El Paso, TX." is not intended to replace a one-on-one relationship with a qualified health care professional, or licensed physician, and is not medical advice. We encourage you to make your own healthcare decisions based on your research and partnership with a qualified healthcare professional.
Blog Information & Scope Discussions
Our information scope is limited to Chiropractic, musculoskeletal, physical medicines, wellness, contributing etiological viscerosomatic disturbances within clinical presentations, associated somatovisceral reflex clinical dynamics, subluxation complexes, sensitive health issues, and/or functional medicine articles, topics, and discussions.
We provide and present clinical collaboration with specialists from a wide array of disciplines. Each specialist is governed by their professional scope of practice and their jurisdiction of licensure. We use functional health & wellness protocols to treat and support care for the injuries or disorders of the musculoskeletal system.
Our videos, posts, topics, subjects, and insights cover clinical matters, issues, and topics that relate to and support, directly or indirectly, our clinical scope of practice.*
Our office has made a reasonable attempt to provide supportive citations and has identified the relevant research study or studies supporting our posts. We provide copies of supporting research studies available to regulatory boards and the public upon request.
We understand that we cover matters that require an additional explanation of how it may assist in a particular care plan or treatment protocol; therefore, to further discuss the subject matter above, please feel free to ask Dr. Alex Jimenez DC or contact us at 915-850-0900.
We are here to help you and your family.
Blessings
Dr. Alex Jimenez DC, MSACP, CCST, IFMCP*, CIFM*, ATN*
email: coach@elpasofunctionalmedicine.com
Licensed in: Texas & New Mexico*
Dr. Alex Jimenez DC, MSACP, CIFM*, IFMCP*, ATN*, CCST
My Digital Business Card