For many individuals with low back pain, how does spinal decompression alleviate muscle stress as part of initial treatment?
Introduction
Many working individuals know that low back pain is a common problem that causes them to go to their primary doctor to get examined and miss out on work. Low back pain is a multifactorial musculoskeletal condition that causes overlapping risk profiles to affect the body's lower extremities. Low back pain can correlate with musculoskeletal disorders like sciatica, abdominal pain, leg pain, and DDD (degenerative disc disease). It can range from acute to chronic, depending on the severity the individual is dealing with when it comes to pain. At the same time, low back pain can be non-specific or mechanical as the surrounding muscles, soft tissues, joints, and ligaments are affected and dealing with symptoms of muscle strain, unwanted pressure on the joint, causing stress, and muscle aches. Since the body and the spine naturally age, it causes more stress on the lower back as individuals begin to hunch over more when walking or carrying heavy objects, which causes more strain on the back muscles, leading them to a life of disability. Luckily, non-surgical treatments have become more available to reduce the effects of muscle stress associated with low back pain and alleviate the pain-like symptoms in the lumbar spine. Today's article focuses on how numerous factors can cause muscle stress to the lower back and how spinal decompression can reduce its effects while alleviating low back pain. At the same time, we work hand-in-hand with certified medical providers who incorporate our patient's information to treat and mitigate muscle stress on the lower back. We also inform them that non-surgical treatments like spinal decompression can help alleviate residual pain-like symptoms associated with low back pain and help them return to their daily activities. We encourage our patients to ask profound questions while seeking education from our associated medical providers about their pain-like issues. Dr. Alex Jimenez, D.C., incorporates this information as an educational service. Disclaimer
How Factors Cause Muscle Stress To The Low Back
Do you feel gradual or consistent pain in your lower back after carrying a heavy object from one location to another? Are you constantly taking medication for your low back pain to finish the workday? Or do you feel pain in your sciatic nerve that gets aggravated when you are in motion, and you feel relief when resting? Around the world, many people have dealt with low back pain and its associated symptom at some point. Since low back pain can be either specific or non-specific, pain can come from spinal issues that cause referred pain to a different body location or normal repetitive factors that cause discomfort to the surrounding soft tissues, muscles, and ligaments. Some symptoms correlating with low back pain include progressive motor or sensory issues, urinary retention, abnormal neurologic issues, spinal misalignment, or soft tissue abnormalities. (Will, Bury, & Miller, 2018) When many working individuals are dealing with non-specific low back pain, the surrounding soft tissues and muscles can become weak and overworked, which causes overlapping risk profiles and results in the development of low back pain.
Many working individuals with demanding jobs, whether physical or sedentary, will often strain their lumbar region from lifting/carrying heavy objects or being hunched over constantly at the computer. When a person continues to put repetitive stress on the surrounding muscles, it can cause chronic pain over time and become a major cause of work loss. (Becker & Childress, 2019) Low back pain can cause the individual to be more stressed since they are missing out on work. Low back pain can also be due to lumbar instability from the intervertebral disc and surrounding muscles and ligaments under constant pressure. (Hauser et al., 2022) Since the body and spine age over time naturally, many individuals dealing with low back pain will begin to feel their joints and muscle structures loosen over time, leading to musculoskeletal symptoms that prevent the spine from destabilizing. This can cause the individual to limit their ability to participate in daily activities and even reduce their quality of life. Luckily, non-surgical treatments can reduce the effects of low back pain while revitalizing the lumbar region so many people can continue their daily activities pain-free.
---
From Injury To Recovery-Video
When treating and reducing low back pain, many pain specialists like chiropractors and massage therapists can incorporate non-invasive treatments to ease low back pain. Non-invasive treatments like chiropractic care and spinal decompression can help reduce muscle stress on the lumbar region with mechanical or manual spinal manipulation and help relieve the affected lumbar area. Now spinal decompression and chiropractic care have a wonderful relationship as they use negative pressure on the intervertebral disc to increase nutrient flow back to the spine and help kick-start the body's natural healing process. (Schimmel et al., 2009) These treatments are not only non-invasive, but they are also safe and cost-effective while being customizable to the person's pain. The video above explains how these treatments can reduce soft tissue injuries and the effects of musculoskeletal pain on the lumbar region.
---
Spinal Decompression Reducing Muscle Stress From Low Back Pain
Non-surgical treatments like spinal decompression are incorporated into a person's personalized health plan to reduce the effects of low back pain. Spinal decompression uses gentle traction on the spine to diminish the compressive load on the intervertebral disc to reduce herniation while stretching the lumbar spinal muscles and ligaments to decrease muscle spasms. (Sari et al., 2005) When individuals start to feel relief in their lower back due to spinal decompression as they begin to feel general improvement in the lumbar region. (Borman, Keskin, & Bodur, 2003) Since spinal decompression uses gentle traction on the spine, this gentle force can relieve radicular symptoms associated with the lower extremities. (Krause et al., 2000) Additionally, the effects of spinal decompression can be a positive experience for many individuals dealing with low back pain. (Pellecchia, 1994) When it comes to reducing low back pain, utilizing non-surgical treatments like spinal decompression can help improve mobility back to the individual and reduce the pain they were experiencing before. When people begin to think about their health and wellness, they can experience relief from the pain and get back to normalcy.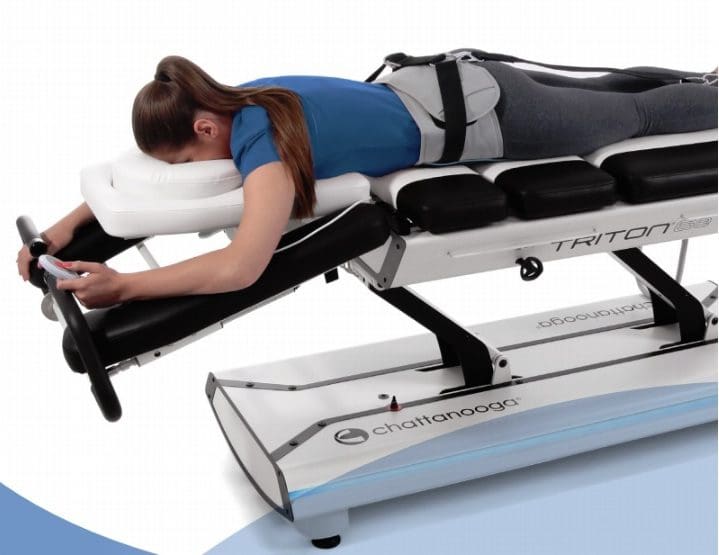 ---
References
Becker, B. A., & Childress, M. A. (2019). Nonspecific Low Back Pain and Return To Work. American Family Physician, 100(11), 697-703. www.ncbi.nlm.nih.gov/pubmed/31790184
www.aafp.org/dam/brand/aafp/pubs/afp/issues/2019/1201/p697.pdf
Borman, P., Keskin, D., & Bodur, H. (2003). The efficacy of lumbar traction in the management of patients with low back pain. Rheumatol Int, 23(2), 82-86. doi.org/10.1007/s00296-002-0249-0
Hauser, R. A., Matias, D., Woznica, D., Rawlings, B., & Woldin, B. A. (2022). Lumbar instability as an etiology of low back pain and its treatment by prolotherapy: A review. J Back Musculoskelet Rehabil, 35(4), 701-712. doi.org/10.3233/BMR-210097
Krause, M., Refshauge, K. M., Dessen, M., & Boland, R. (2000). Lumbar spine traction: evaluation of effects and recommended application for treatment. Man Ther, 5(2), 72-81. doi.org/10.1054/math.2000.0235
Pellecchia, G. L. (1994). Lumbar traction: a review of the literature. J Orthop Sports Phys Ther, 20(5), 262-267. doi.org/10.2519/jospt.1994.20.5.262
Sari, H., Akarirmak, U., Karacan, I., & Akman, H. (2005). Computed tomographic evaluation of lumbar spinal structures during traction. Physiother Theory Pract, 21(1), 3-11. www.ncbi.nlm.nih.gov/pubmed/16385939
Schimmel, J. J., de Kleuver, M., Horsting, P. P., Spruit, M., Jacobs, W. C., & van Limbeek, J. (2009). No effect of traction in patients with low back pain: a single centre, single blind, randomized controlled trial of Intervertebral Differential Dynamics Therapy. Eur Spine J, 18(12), 1843-1850. doi.org/10.1007/s00586-009-1044-3
Will, J. S., Bury, D. C., & Miller, J. A. (2018). Mechanical Low Back Pain. American Family Physician, 98(7), 421-428. www.ncbi.nlm.nih.gov/pubmed/30252425
www.aafp.org/dam/brand/aafp/pubs/afp/issues/2018/1001/p421.pdf
Disclaimer
Post Disclaimer
Professional Scope of Practice *
The information herein on "A New Direction For Initial Treatment For Low Back Pain" is not intended to replace a one-on-one relationship with a qualified health care professional or licensed physician and is not medical advice. We encourage you to make healthcare decisions based on your research and partnership with a qualified healthcare professional.
Blog Information & Scope Discussions
Our information scope is limited to Chiropractic, musculoskeletal, physical medicines, wellness, contributing etiological viscerosomatic disturbances within clinical presentations, associated somatovisceral reflex clinical dynamics, subluxation complexes, sensitive health issues, and/or functional medicine articles, topics, and discussions.
We provide and present clinical collaboration with specialists from various disciplines. Each specialist is governed by their professional scope of practice and their jurisdiction of licensure. We use functional health & wellness protocols to treat and support care for the injuries or disorders of the musculoskeletal system.
Our videos, posts, topics, subjects, and insights cover clinical matters, issues, and topics that relate to and directly or indirectly support our clinical scope of practice.*
Our office has reasonably attempted to provide supportive citations and has identified the relevant research study or studies supporting our posts. We provide copies of supporting research studies available to regulatory boards and the public upon request.
We understand that we cover matters that require an additional explanation of how it may assist in a particular care plan or treatment protocol; therefore, to further discuss the subject matter above, please feel free to ask Dr. Alex Jimenez, DC, or contact us at 915-850-0900.
We are here to help you and your family.
Blessings
Dr. Alex Jimenez DC, MSACP, RN*, CCST, IFMCP*, CIFM*, ATN*
email: coach@elpasofunctionalmedicine.com
Licensed as a Doctor of Chiropractic (DC) in Texas & New Mexico*
Texas DC License # TX5807, New Mexico DC License # NM-DC2182
Licensed as a Registered Nurse (RN*) in Florida
Florida License RN License # RN9617241 (Control No. 3558029)
Presently Matriculated: ICHS: MSN* FNP (Family Nurse Practitioner Program)
Dr. Alex Jimenez DC, MSACP, RN* CIFM*, IFMCP*, ATN*, CCST
My Digital Business Card