In individuals with discogenic low back pain, how does incorporating decompression reduce muscle strain in the back?
Introduction
When it comes to low back pain, many people often complain that the surrounding muscles will ache constantly, and there is no relief from their primary doctors. Muscle strain associated with low back pain is one of the pain-like symptoms that many individuals experience when normal or traumatic factors start to cause issues in the lower back region of the body. When people begin to make constant repetitive motions correlating with normal daily activities like heavy lifting objects, poor posture, or stepping wrong, it can cause micro-tears to the surrounding muscles and the spinal discs in the lumbar region. When the spinal discs degenerate over time and have been under constant pressure, it can aggravate the surrounding nerve roots causing pain-like problems to the surrounding muscles, ligaments, and tissues, leading to musculoskeletal disorders corresponding with discogenic low back pain. Pain affecting the lower back can lead to a life of disability and make a person feel miserable. To that point, many individuals will seek non-surgical treatment to reduce discogenic pain associated with the low back and can find the relief they have sought. Today's article examines how discogenic low back pain causes low back pain and how non-surgical treatments like decompression reduce discogenic low back pain and restore muscle strength. Additionally, we communicate with certified medical providers who incorporate our patient's information to reduce muscle strain correlating with discogenic low back pain. We also inform them that decompression can help mitigate the pain-like symptoms associated with degenerated discs affecting the lower back region. We encourage our patients to ask amazing questions while looking for education from our associated medical providers about their low back issues. Dr. Jimenez, D.C., incorporates this information as an educational service. Disclaimer
Discogenic Low Back Pain Causing Muscle Strain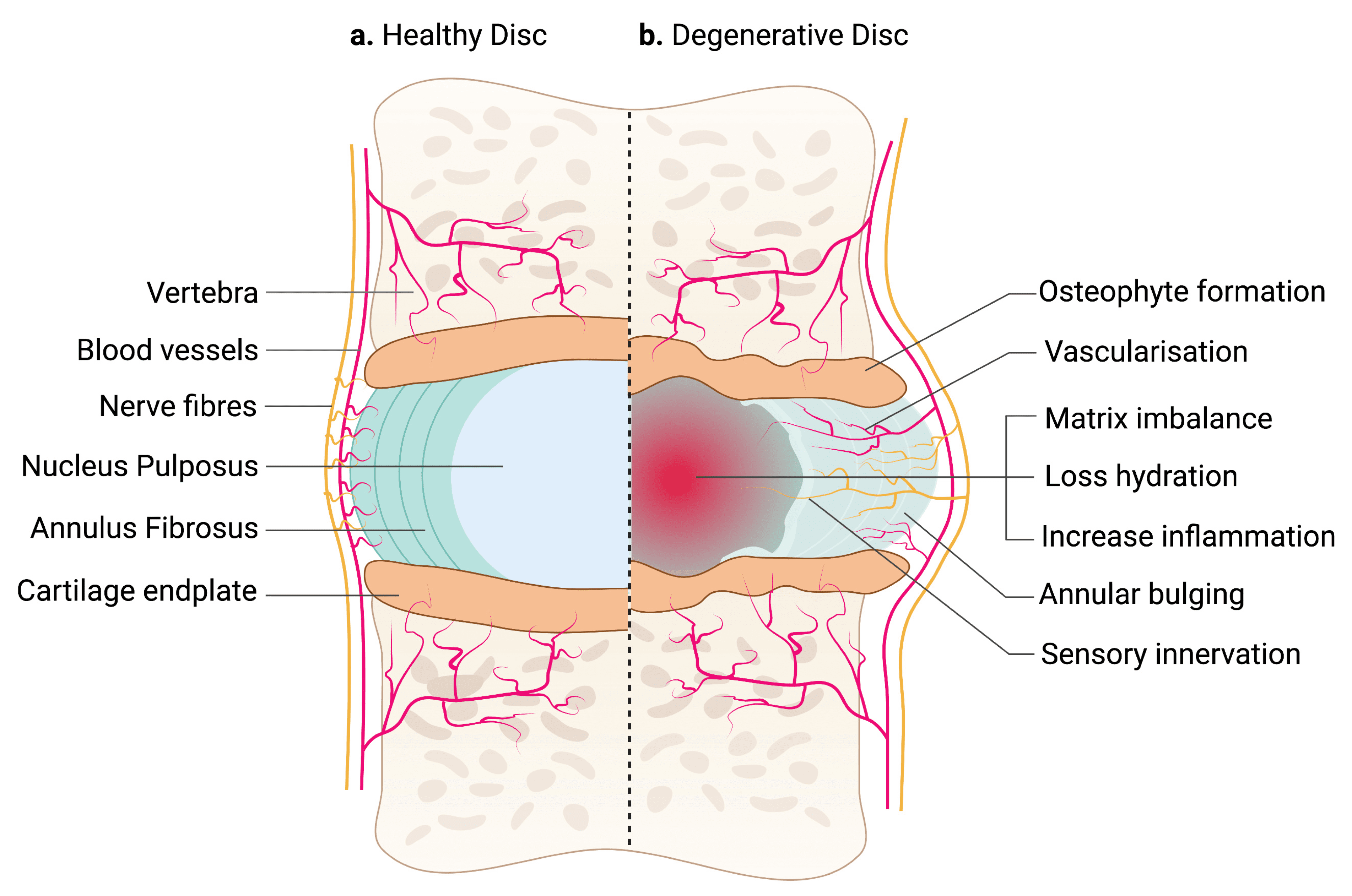 Do you often experience a pinched nerve or muscle strain in your lower back that hurts when standing? Do you feel symptoms of muscle spasms in your lower back or behind your legs? Or do you and your loved ones feel numbness or tingling sensations in your back, legs, and feet after sitting down excessively? These pain-like issues are associated with discogenic low back pain, which can lead to the development of disability in many people. Discogenic low back pain is developed when the intervertebral (spinal) disc degenerates over time and can contribute to disability. (Mohd Isa et al., 2022) When there are structural changes to the spinal disc that causes the degeneration to progress, it can lead to dysfunction and instability in the lumbar spine. The spinal discs in the spine have the primary job of absorbing the unwanted pressure load that the body is experiencing. Over time though, the spinal disc can degenerate and crack under pressure, leading to discogenic low back pain. Discogenic low back pain can lead to increased pain in the lower back region's paraspinal muscles and muscle atrophy, inflammation, and muscle strain in the lower back muscles and lumbar spinal discs. (Huang et al., 2022) When the spinal disc is under constant pressure, the inflammatory cytokines can induce nerve ingrowth, structural and biomechanical changes, and a release of pain factors to contribute to the effects of discogenic low back pain. (Lyu et al., 2021) When people are dealing with discogenic low back pain associated with muscle strain, it can make them miss out on their daily activities.
---
From Injury To Recovery With Chiropractic-Video
When many individuals are experiencing discogenic low back pain, it can be difficult for pain specialists and doctors to identify the underlying source of pain since it is a multifactorial musculoskeletal disorder. (Fujii et al., 2019) However, numerous ways exist to reduce the pain and allow the individual to return to their daily routines. Non-surgical treatments are an excellent way to minimize the pain-like symptoms associated with discogenic low back pain. Treatments like decompression therapy and chiropractic care can create a happy experience for many individuals dealing with discogenic low back pain as it is safe, cost-effective, and gentle on the spine. Decompression can help reduce the pain in the posterior segment of the lumbar spine while relaxing the surrounding muscles and ligaments and pulling the affected disc back to its original position. (Choi et al., 2022) This creates negative pressure on the spinal column and increases disc height on the spine, which allows the fluids and nutrients to flood back into the spine and rehydrate the disc. Decompression therapy can also be combined with chiropractic care, as the spine can be manipulated mechanically or manually to allow the body to realign itself. This, in turn, promotes the body's natural healing properties to work its magic and provide relief. The video explains how these treatments can positively impact many suffering individuals and help them regain their health.
---
Decompression Reducing Discogenic Low Back Pain
Decompression therapy allows the individuals to be strapped into a traction machine in a supine position and gently pulls the spine to enable the affected disc to return to the spine and lay off the pressure on the aggravating nerve root that is causing muscle strain. This causes the intervertebral disc space to change through negative pressure, which allows the height to increase in the intervertebral height without stimulating the surrounding fibers around the disc. (Oh et al., 2019) This allows the facet joints in the spine to be realigned, allowing them to be in their moveable location back to the spine to alleviate pain, thus restoring normal posture and activating body functions. When individuals incorporate decompression therapy consecutively, it can minimize the pain caused by discogenic low back pain and allows the individual to have a personalized plan to ensure the pain doesn't return. (Macario et al., 2008)
Restoring Muscle Strength In The Low Back
Decompression therapy allows the affected muscle to be stretched gently, which can be strengthened through other treatments like physical therapy. This can effectively reduce discogenic low back pain associated with the affected discs and positively influence spinal mobility and muscle strength. (Wang et al., 2022) Even though degeneration in the spinal disc is a natural process, it is important to be mindful of the body to prevent pain-like symptoms from occurring and causing issues to the back. Decompression therapy can positively influence many individuals looking to regain their health and reduce the pain they are experiencing from discogenic low back pain so they can return to their daily activities.
---
References
Choi, E., Gil, H. Y., Ju, J., Han, W. K., Nahm, F. S., & Lee, P. B. (2022). Effect of Nonsurgical Spinal Decompression on Intensity of Pain and Herniated Disc Volume in Subacute Lumbar Herniated Disc. International Journal of Clinical Practice, 2022, 6343837. doi.org/10.1155/2022/6343837
Fujii, K., Yamazaki, M., Kang, J. D., Risbud, M. V., Cho, S. K., Qureshi, S. A., Hecht, A. C., & Iatridis, J. C. (2019). Discogenic Back Pain: Literature Review of Definition, Diagnosis, and Treatment. JBMR Plus, 3(5), e10180. doi.org/10.1002/jbm4.10180
Huang, Y., Wang, L., Luo, B., Yang, K., Zeng, X., Chen, J., Zhang, Z., Li, Y., Cheng, X., & He, B. (2022). Associations of Lumber Disc Degeneration With Paraspinal Muscles Myosteatosis in Discogenic Low Back Pain. Front Endocrinol (Lausanne), 13, 891088. doi.org/10.3389/fendo.2022.891088
Lyu, F. J., Cui, H., Pan, H., Mc Cheung, K., Cao, X., Iatridis, J. C., & Zheng, Z. (2021). Painful intervertebral disc degeneration and inflammation: from laboratory evidence to clinical interventions. Bone Res, 9(1), 7. doi.org/10.1038/s41413-020-00125-x
Macario, A., Richmond, C., Auster, M., & Pergolizzi, J. V. (2008). Treatment of 94 outpatients with chronic discogenic low back pain with the DRX9000: a retrospective chart review. Pain Pract, 8(1), 11-17. doi.org/10.1111/j.1533-2500.2007.00167.x
Mohd Isa, I. L., Teoh, S. L., Mohd Nor, N. H., & Mokhtar, S. A. (2022). Discogenic Low Back Pain: Anatomy, Pathophysiology and Treatments of Intervertebral Disc Degeneration. Int J Mol Sci, 24(1). doi.org/10.3390/ijms24010208
Oh, H., Choi, S., Lee, S., Choi, J., & Lee, K. (2019). Effects of the flexion-distraction technique and drop technique on straight leg raising angle and intervertebral disc height of patients with an intervertebral disc herniation. Journal of Physical Therapy Science, 31(8), 666-669. doi.org/10.1589/jpts.31.666
Wang, W., Long, F., Wu, X., Li, S., & Lin, J. (2022). Clinical Efficacy of Mechanical Traction as Physical Therapy for Lumbar Disc Herniation: A Meta-Analysis. Comput Math Methods Med, 2022, 5670303. doi.org/10.1155/2022/5670303
Disclaimer
Post Disclaimer
Professional Scope of Practice *
The information herein on "Incorporating Decompression To Alleviate Discogenic Low Back Pain" is not intended to replace a one-on-one relationship with a qualified health care professional or licensed physician and is not medical advice. We encourage you to make healthcare decisions based on your research and partnership with a qualified healthcare professional.
Blog Information & Scope Discussions
Our information scope is limited to Chiropractic, musculoskeletal, physical medicines, wellness, contributing etiological viscerosomatic disturbances within clinical presentations, associated somatovisceral reflex clinical dynamics, subluxation complexes, sensitive health issues, and/or functional medicine articles, topics, and discussions.
We provide and present clinical collaboration with specialists from various disciplines. Each specialist is governed by their professional scope of practice and their jurisdiction of licensure. We use functional health & wellness protocols to treat and support care for the injuries or disorders of the musculoskeletal system.
Our videos, posts, topics, subjects, and insights cover clinical matters, issues, and topics that relate to and directly or indirectly support our clinical scope of practice.*
Our office has reasonably attempted to provide supportive citations and has identified the relevant research study or studies supporting our posts. We provide copies of supporting research studies available to regulatory boards and the public upon request.
We understand that we cover matters that require an additional explanation of how it may assist in a particular care plan or treatment protocol; therefore, to further discuss the subject matter above, please feel free to ask Dr. Alex Jimenez, DC, or contact us at 915-850-0900.
We are here to help you and your family.
Blessings
Dr. Alex Jimenez DC, MSACP, RN*, CCST, IFMCP*, CIFM*, ATN*
email: coach@elpasofunctionalmedicine.com
Licensed as a Doctor of Chiropractic (DC) in Texas & New Mexico*
Texas DC License # TX5807, New Mexico DC License # NM-DC2182
Licensed as a Registered Nurse (RN*) in Florida
Florida License RN License # RN9617241 (Control No. 3558029)
Presently Matriculated: ICHS: MSN* FNP (Family Nurse Practitioner Program)
Dr. Alex Jimenez DC, MSACP, RN* CIFM*, IFMCP*, ATN*, CCST
My Digital Business Card